Happy mid-week! I've got a few more cute items to share with you. Though I haven't tried any of these yet, they have all piqued my interest.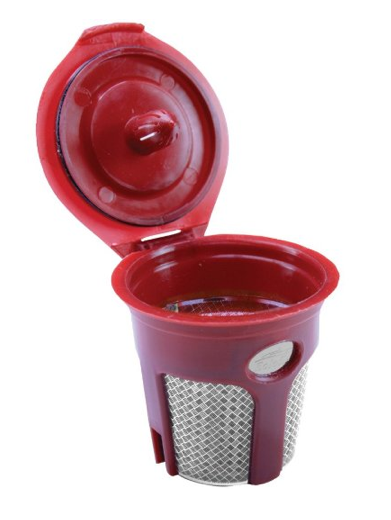 Single-serve coffee makers have certainly become the easiest way to have a freshly brewed cup of coffee, made just right. But what about all of those plastic coffee filled containers? Not everyone may take the time to empty that container of coffee grounds into the compost and recycle the plastic container. So if you want to be green, but don't have the time to empty that little cup, try out this refillable K-Cup. It comes with a hinged lid that you can fill with your favorite coffee grounds so you can still enjoy coffee that might not come in the usual K-Cup containers.

Sometimes all natural deodorants that we've reviewed work well for some people but not others. So if that's the case, maybe try out this natural cream deodorant from Soapwalla, it might be just what your powerful pits are looking for. Made with a combination of clays and essential oils, vegetable powders which help to reduce sweating.
Eco-Goats
Even though this article is a bit dated, I thought this would be an interesting article to share anyways. Goats are now being used to "mow" the lawn at the Congressional Cemetery. By using goats it gives the opportunity to treat weeds and brush without the use of chemicals. Here is the link to the full article and here is a link to the eco-goats based on the east coast.
This website is a new to me but a great resource to everyone. Swapdom helps you to find secondhand clothing, accessories and even stuff for kids by swapping items you don't use any longer for items you do need. Unlike sites like freecycle, you don't have to rely on finding someone locally to take your items because the purchaser pays for shipping. Though I think they should have an option if you wanted to do local pickup in case you are comfortable with that and happen to live near. I see that option helping reduce shipping costs and the strain on the earth via packaging, freight and other working parts that are involved with shipping items. Check out this video about exactly how Swapdom works and this link to browse their fashion section to see if there is anything for you.
{ 0 comments }