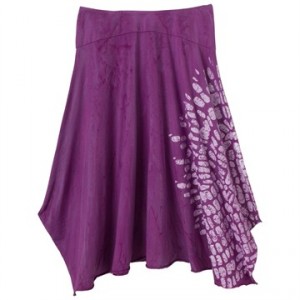 If you want to feel comfy but still a bit fancy I've got just the skirt for you ladies. I'd suggest trying this super soft 100% organic jersey cotton skirt from Prana. They create yoga wear with function in mind. Since 1992 they have been making climbing and yoga clothing, which they found out works well for many other passions, so they added new products with "purpose" in mind. Originally working in their garage to create this clothing and making handmade clothing tags from old newspapers, they have certainly grown since then. Prana still supports organic cotton, fair trade and wind powered initiatives, as well as many others in their ideals to promote conservation and create positive change. I think their name fits them well in several ways, as it's Sanskirt for breath, life and vitality of spirit.
Now onto the good stuff, how much I've enjoyed this skirt. Prana's Sublime Skirt has a bit of playfulness to it while still being fashionable. The jersey fabric gives it a bit of a stretch, so it easily contours to your waist, no zippers or buttons to worry about. Using 100% organic cotton, it is as soft as can be, making you feel like you are lounging in yoga pants while wearing it. It has an uneven hem that helps it to have great hang with great ruffles. Adding a bit of creativity, it has a fun mosaic screen print design on the front over a "Rain Wash" dye process, which makes every skirt uniquely different.
The Sublime Skirt comes in 4 different colors; Berry, Blue Jean, Cardinal and Black, though as of this posting they seem to only have the Blue Jean and Cardinal in stock. I happily choose Berry to review and love pairing it with a plain black t-shirt. Photo on Prana's website show that the skirt falls below knee length, but if that is too long for you, it is easy to roll up at the waist to make it short, which I usually do. Enjoy this skirt and feel like a flowing Goddess. Prana has clothing for Men and Women, including swim and climbing gear. Check out all of their collections at www.prana.com.
{ 0 comments }