2014 was my second year attending the Natural Products Expo East event, always in search of my new favorite natural products.  Though i was only able to attend the expo for the last day, saturday, I still found several new companies that deserve some special attention.  I'll be doing more in-depth reviews of these products in coming weeks, but for now I wanted to give a small recap of the items that really stood out in my opinion.
The very first vendor I encountered Saturday morning was a lovely Father/Daughter team from Ultra Green.  I spoke with the daughter, Zoe about their different products, including a party set of utensils made from corn (which includes utensils, plates, cups and napkins made from sugarcane fiber) as well as their paper products featuring toilet paper, tissues and paper towels made from 100% bamboo fiber.  They are a wonderful small company that is really going to make a difference and not just in this business to make a profit.  I found this to be the case with many vendors, they truly want to make a difference in this industry with their products.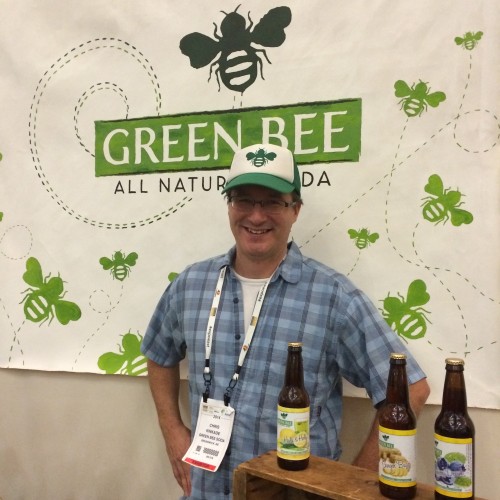 Green Bee Soda is a company that is not very different from Ultra Green in terms of a small family run business. Owner Chris Kinkade informed me of this when I stopped by his booth to try some of his honey sweetened soda from his own bee-hives.  It is a fact that I do not like soda, especially not mainstream brand soda and I've even found natural sodas to be too sweet and too carbonated.  However, I was pleasantly surprised how much Green Bee Soda did not taste like what I've come to know soda as.  It was light and barely carbonated (not as if it's gone flat) as well as only a hint of sweetness.  I was able to try the Lemon Sting flavor as well as the Half and Half – which was revealed at the expo for the first time.  Half & Half is Organic Green Tea and Lemon Sting, which happened to be my favorite flavor!  The short ingredient is a bonus too!  No "natural flavors" hiding behind a generalized ingredient.
It was only 9:30am by the time I passed the Blue Marble Ice Cream booth.  If you are offered organic ice cream no matter what time it is you shouldn't pass it up.  That was the case when Jennie from Blue Marble offered me some Sea Salt Caramel Organic Ice Cream, I of course said yes.  Then proceeded to try several more flavors (Vanilla & Mint Chocolate) and loved each one.  That was certainly because it was so so deliciously creamy without antibiotics, hormones, pesticides or anything artificial.  Blue Marble is even doing great things internationally with work in Rwanda by helping to open the country's first scoop shop run by the women of Rwanda.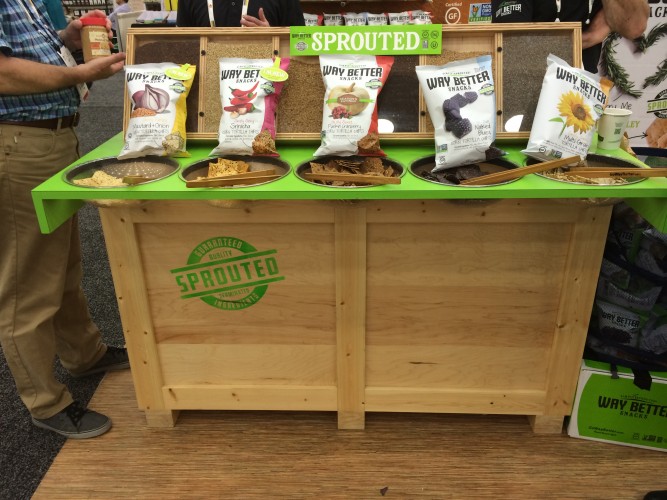 Popcorn and chips seemed to dominate the food aisles of Expo East this year.  Though many vendors were your average chip, one company's chips really did stand out for me.  However, one company's chips really did stand out for me.  Way Better Snacks, has a line ofsprouted corn tortilla chips and pita chips.  Many of which include chips made with many funky ingredients like Black Bean, Sweet Potato or "Punkin Cranberry".  They were very tasty, light but crunchy chips that would pair well with dip.  They also offer three flavors of "Pita-ahh Chips", which are even more crunchy as well a soon to be available line of flavored crackers.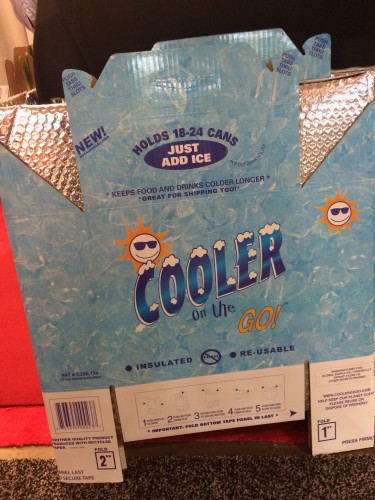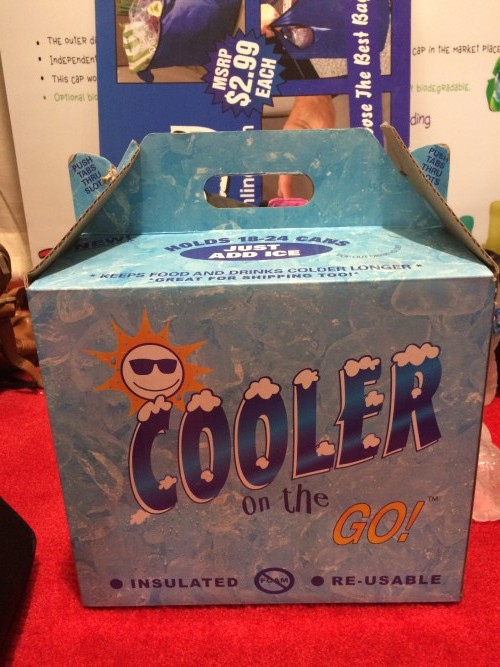 I don't have much info about this next product, but I was really pleased at the potential for how eco-friendly it could be.  Cooler on the Go is a fold flat cardboard box with a thermal insert to keep your beverages cold and it's completely reusable.  This product eliminates the need for styrofoam coolers, which usually become one use items since they don't always hold up to the strength they should.  Cooler on the Go is customizable too!  If you had a family reunion or get together you could make personalized ones.  Unfortunately they don't sell them on their website, but you can buy a case of them on eBay.  Perhaps you'll come across a retail vendor that carries them.  If you do please comment below and let us know where you found them, we're on the look out too.
On my way out of the expo I almost passed up a chance to try Freekheh – Roasted Green Wheat and it's a good thing I didn't, it is wonderful.  I have never heard of roasted green wheat before, I found out it has great nutritional value when harvested while still green and absorbs other food flavors just as quinoa does.  It truly reminded me of barely or a food cousin of quinoa that was a bit more dense.  It was combined with many vegetables and a bit of olive oil which made for a flavorful snack that I wish I had more of that day.  You can search for Freekheh at your local food store here.
I also wanted to mention that I visited a lovely company that I met at the NYC Green Festival back in April, Emmy's.  They are makers of wonderfully soft and chewy macaroons and non-GMO super cereals, Sweet Buckwheat was my favorite!
There are several other companies that I haven't mentioned above that I will be doing in-depth reviews of their products soon to come, including Molly's Suds Laundry Powder, Beanfields' new flavors of bean chips: Barbecue and Ranch, Primal Pit Paste Deodorant and World Centric wheatstraw fiber bowls and toilet paper.  I enjoyed my day trip to Expo east and met many fantastic vendors.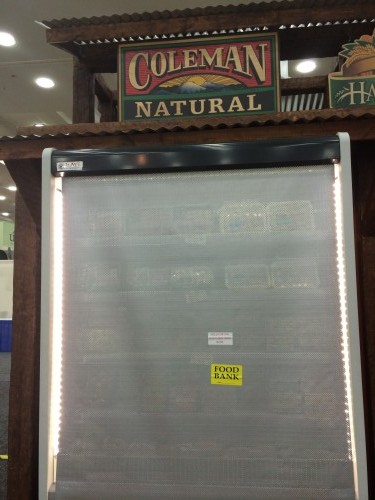 Many of these vendors, as well as countless others, donated their undistributed samples to local food banks, a great idea for a great cause.  I look forward to reviewing all the products i received over the weekend.  Check back soon to read about some of the other green products I've found at this year's expo.
{ 0 comments }