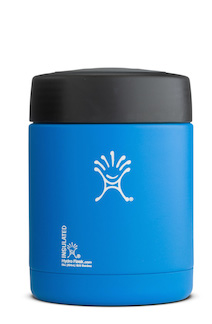 Bulk foods are known as great buys because of their low cost and lack of cumbersome and wasteful packaging.  But how to get these great buys home with you, without packaging?  Bring your own container!  With foods like freshly ground coffee, some of these bulk items benefit from being sealed for freshness.  As with coffee, you can seal in that great flavor as soon as the beans are ground when you take them home in Hydro Flask's 12 oz. Food Flask.  It's airtight, BPA-free lid can help keep your foods hot or cold for up to 3 hours as they claim.
I've used this food flask to keep milk cold for cereal for a bit more than 3 hours (though in late winter) and found the milk to be just as cold as if I just took it from the fridge.  I had no worry at all about enjoying it, knowing that there is no way it would have spoiled.
I have reviewed another insulated food flask from Kleen Kanteen and was happy with its performance at the time.  However in terms of its effectiveness, Hydro Flask is far better at keeping foods cool as needed.  Neither the previously reviewed flask nor the one from Hydro Flask really kept food warm enough as per their suggested timetable (Hydro Flask 3 hours).  Hydro flask did keep my food warm, however it didn't keep food hot as I expected it would.  Though being slightly warm after 20 minutes in travel is better than being cold.  Kleen Kanteen also had the same problem of luke warm food after 20 minutes.  Both food flasks were a bit disappointing in that aspect but are still wonderful containers because they allow you to reuse them countless time and keep items of the landfill as well.
Hydro Flask Food Flask comes in two different colors, Classic Stainless and Tahoe Blue, both in 12 oz. sizes.  The Tahoe Blue version I was sent has a slight texture to the container, which I really enjoyed.  It made the container easier to grip and hold onto.  The wide mouth container has been leak-proof against spills and easy-access to allow you to eat directly out of the container if you wish.  This container is great to take on the go for quick dry snacks or along with you for your longer travels to keep foods cool.
{ 0 comments }