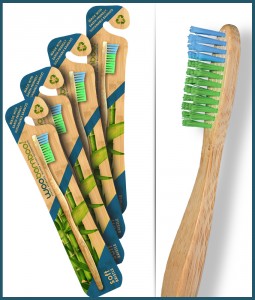 Recycling what you can is a great practice to get into. But what if the products didn't need to be recycled because it is sustainable and made from organic matter? So it will eventually breakdown on it's own, which is even better. Just remove the bristles and toss the handle into your compost pile. As the bristles are plastic they won't breakdown in your compost. That is what Woobamaboo is great for, biodegradable bamboo handles help to make this toothbrush sustainably organically grown and antimicrobial.
Just like cutting boards which are made from bamboo, this handle is naturally low porous, so that helps with keeping bacteria at bay and away from your mouth. I was happy that this brush acted just as any other toothbrush would, but has an added "green" factor to it, to help the earth at the same time. They only thing that I noticed was that the handle seemed to dry out as I used it. It wasn't as dark in color and softness as when I first started using it. However I think my hard water is likely the culprit. Perhaps some coconut oil could help hydrate it, but really that is with any bamboo product to keep it oiled. Though the handle being drier than it was out of the package didn't affect the use of the toothbrush.
These brushes come in soft bristles and kid "sprout" travel sizes too. Medium and super soft bristles are available too, but dentist recommend using the soft uses. Not sure if Woobamboo is for you? Click here to request a sample toothbrush for free and you definitely should. For large orders or companies who request it, they also have custom laser logo engraving available.
{ 0 comments }