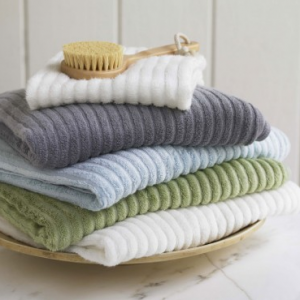 For inspired green living products look no further than VivaTerra.com. This website offers all types of earth friendly gifts and home décor. From decorative natural Root of the Earth bowls and baskets to recycled or reclaimed material floor rugs. I have fortunately had the pleasure of enjoying their organic cotton and bamboo towel set by Dreamsacks.
Made from 70% viscose from bamboo and 30% organic cotton, which allows it to be the softest towel I have likely owned. The bath towel is a generous 30"x54" and happily wraps around me almost one and a half times, long enough to not have any unwanted body parts peeking out on the walk to get dressed. When used to dry your skin you will be amazed at how absorbent this towel is. Instantly it sucks the beads of water into its bamboo weave, leaving my skin dry but still moist and ready for lotion.
The bath towel, hand towel and wash cloth are as luxuriously soft as chenille and become even more supple and smooth in texture over time when washed in cool water. I expected nothing less from the hand towel and wash cloth and received nothing less than the fantastic absorbency displayed by the bath towel. After washing my hands the hand towel left my hands dry in a flash with a quick swipe of the towel. The washcloth was even softer when wet, but did seem to become very heavy and saturated when used in the shower. I may stick to using it only to wash my face at the sink. Since these towels when wet become very saturated because of their high absorbency rate they may take a bit longer than your average towel to dry, since it is recommended to tumble dry on low heat. Though for the softness and the renewable benefit of bamboo provides us I think a little extra time in the dryer is well worth it.
At $98 for the bath towel, it seems to be priced a bit above high-end hotel quality towels yet will be an investment you will have for years to come as I don't see this product deteriorating anytime soon. The hand towel and washcloth are priced a bit lower at $39 and $19 respectfully, with your choice currently of white or gray.
To check out VivaTerra's massive eco-friendly collection, including furniture, home accessories, dining, gardening, bed and bath, women's apparel and accessories and many more gifts you'll love. Many of which are still on sale for the holiday season head over to VivaTerra.com or request a paper catalog (but that doesn't save many trees though.)