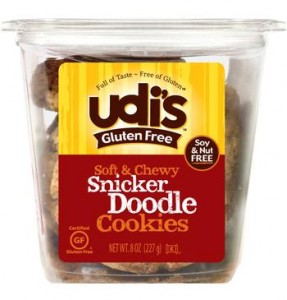 I've been learning about so many great products that have resulted in attending the Natural Products Expo East back in September and these cookies are just another one of the great products. Udi's Gluten Free has a line of gluten-free breads, including delicious sweet treats like cookies and brownies. I'm sure you can imagine most of the products such as bagels/breads/rolls, cookies/brownies/muffins and pizza dough. But I was most surprised to see that they also have gluten-free chips – known as ancient grain crisps. Even tortillas, which I found out through my gym since the cafe there offers them. Udi's really have all your gluten-free carb needs covered.'
There are a lot of gluten-free choices, but my favorite so far is the sample snickerdoodle cookie I received at expo east. It was so soft and chewy to my surprise! I usually find premade cookies to be dry and full of additives that have no nutritional value, not so with this cookie. I must also mention I really only enjoy soft cookies – I think crunchy cookies are silly and have no place on store shelves, because when I buy them and they are crunch when I expect them to be soft I get disappointed.
Nutritionally cookies don't need to be as healthy as a salad, so I can bypass that the first ingredient on these is essentially sugar, but really I think that is how a snickerdoodle should be and surely that is what helps to make it so soft and moist. I found this cookie to be larger in size compared to an Oreo or Chips Ahoy cookie, which is a great thing because it easily left me feeling satisfied so that I enjoyed my dessert with just one cookie, even though they claim two cookies is a serving size. It was a really thick cookie too!
Udi's also offers other cookie flavors Oatmeal Raisin (my favorite type of cookie), chocolate chip, coconut peanut butter, salted caramel cashew, maple pecan chocolate chip and ginger cookies. Check out their website for all dessert options and non-dessert options too. They are even great tasting for those who are not following a gluten-free diet, I couldn't even tell the difference that it was without gluten.
What's your favorite type of cookie?