Groovy Globe is another earth conscious company that I met at the Garden State Green Fest at Kean University on March 15. Groovy Globe is an eco-company that was started by Candace, who has a 15-year career in promoting businesses and consumer products. She thought using her knowledge would help to benefit other companies too.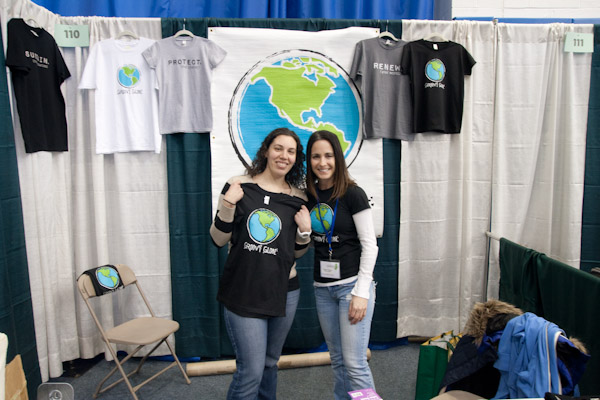 Those companies happen to be helpful for the environment, including Trees for the Future & Global Green USA. Trees for the Future has tree planting efforts throughout Africa, Asia & Latin America. Global Green USA is an affiliate of Green Cross International founded by Mikhal Gorbachev, which hopes to foster a global value shift toward a sustainable and secure future. Both these companies have the right idea when it comes to conserving the earth for the right idea when it comes to conserving the earth for future generations. It makes me so thrilled that Groovy Globe donates 10% of each product sold to these foundations. It's great that 10% is donated to these companies to help the world; I do wish though that Groovy Globe was similar to TOMS shoes. TOMS donates a pair of shoes each time a pair of shoes is purchased, instead of a percentage of items sold. In the future it would be awesome if Groovy Globe was able to donate a shirt or the cost of a shirt to the environmental foundations they support. Perhaps with company growth that could be a possibility to be able to give back even more.
Groovy Globe offers men's & women's t-shirts, as well as a wristband and 100% recycled cotton canvas totebag. The t-shirts come in 4 different designs; a logo shirt, featuring Groovy Globe's earth logo, and "call to action" shirts featuring Renew, Sustain or Protect wording. The "call to action" shirts allow people to quickly understand how to help out the earth, making it a more environmentally friendly place.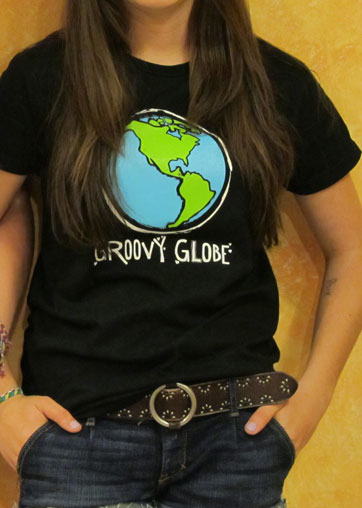 All shirts are made with 100% organic cotton and are so very soft, as all organic cotton products I've tried are. Candace was kind enough to share one of her logo shirts for me to try out. I was pleased she offered women's fitted shirts as well as the standard unisex non-fitted shirt. A lot of ladies would be more likely to wear something with a more slender fit when given a choice.
The screen printing for all of the shirts & totebag use environmentally friendly inks that are water-based and do not include phthalates, which could have an affect on reproductive systems. So it's great we don't have to walk around with chemicals on or in our clothes, which also touch our skin.
I'm thrilled that 100% organic shirts are used because their soft fabric really does make a difference, another step towards chemical free living. I chose a medium sized women's fitted shirt, since that's what I normally wear with no problem. However, this fitted shirt from Groovy Globe fit a lot more snug and acts more like a small size. Since it is a fitted shirt it's likely to be more slim than a standard shirt, so perhaps order up a size from what you normally wear even if that is fitted already too. Happy shopping, for a good cause, see their entire product line here.