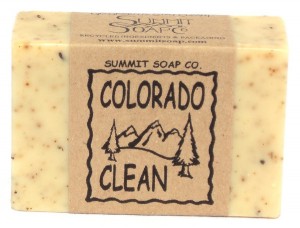 Like the other Summit Soap Co. soaps it is highly recommended to cut a smaller slice of the bar to avoid a mushy bar of soap, since it seems to take very long to dry after use. Summit Soap Co. originally a biodiesel company who later added soap making to their resume once they found out that making biodiesel was very similar to traditional handmade soap. All soaps are handmade in Breckenridge, Colorado from filtered/purified cooking oil, which is taken from local restaurant deep fryers.
Colorado Clean is their best seller and made with great amounts of lemongrass, ground sage and palm stearin. Like all of their soaps, they are free of phosphates, sulfates and parabens. With bits of ground sage it helped to exfoliate my skin and buff away the dead skin to reveal a smooth glow. This soap worked just as well as their Healing Tree to clean my skin and get the job done.
Knowing you are helping out the environment by using upcycled soap and keeping yourself clean as well is likely the biggest benefit to the soap and all other Summit Soap Co. products. They even have a "Have Hope Soap" collection, featuring "Go Pink & Don't Stink" bar soap, which 25% of the proceeds from the sale of that bar go to Ellen's Heart and Soul. Which is a non-profit organization in Boston who offer relief and a higher quality of life to breast cancer patients. Summit Soap Co. does so much good for the world, by producing products that would otherwise be considered waste, so if you can please support them as they already support a great cause. Oh yea and they also seem to ship eco-friendly too. My package arrived besides being filled with soap seemed to contain pieces of paper that in a previous life were part of a textbook. I think this is a pretty nifty way to reduce, reuse and recycle, so kudos to Summit Soap Co. for great ideas.
Mrs. Meyer's Clean Day Giveaway Winner
Congratulations to @SarahLanse as the winner of Mrs. Meyer's Radish Collection Cleaning Supplies.
We want to thank everyone who tweeted to enter and to remind you to be sure to enter our Solio Classic 2 Solar Charger Giveaway this week by commenting on our blog post to be qualified.