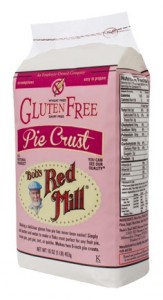 I love cooking and baking from scratch, taking separate ingredients and combining them into one delicious item or meal makes me enjoy eating healthy and natural foods so much more. So I would say I was super excited when I decided to bring a completely homemade organic pumpkin pie to Thanksgiving. Yes, I realize Thanksgiving was already three months ago, but I decided I had to make it again for Christmas to make sure I had all my opinions about this crust mix before I let all you wonderful people know about it.
Well I'm here now to tell you how different it is from your usual wheat flour based crust. I started with this "Pumpkin Pie from Scratch" recipe from CarpeSeason.com, she really knows how to work with simple ingredients! I followed her ingredients for the pie filling, substituting my Trader Joe's Pumpkin Pie Spice for her ground nutmeg and ground ginger. A majority of my ingredients were also organic, which I think helped to add to the delicious flavor. Especially the organic pie pumpkin (also known as a sugar pumpkin) and organic sugars. Make sure you don't get a regular old carving pumpkin, they aren't grown to be eaten and will not yield a tasty pie. Once I cut the pumpkin in half (that was the hardest part of this entire recipe) and roasted it in the oven, I combined all my ingredients for the filling and set aside.
If you use this recipe you can even make this crust mix while your pumpkin is roasting. Or make this pie crust first since it needs to chill in the fridge for an hour anyways. I forgot about that part both times, so there was a bit of waiting around in between. I followed the directions on the package of Bob's Red Mill Gluten Free Pie Crust Mix, but only used half the contents for one pie crust. So essentially I cut the direction in half as well and didn't seem to have any problems because of doing that. I did find it really easy to use my food processor for this, if you have one you should use it. I just combined ingredients and pulsed to combine. Wrap it in plastic wrap and let it chill for an hour in the fridge as stated in the directions. The only difficulty I ran into was trying to roll the dough out after an hour. It kept wanting to break/tear apart a bit, but I just pinched it back together. With practice I'm sure I will be able to roll my dough evenly thin too, I ended up with thicker dough in the middle, but in spite of that it had no affect on the end result of the pie I feel.
Once my pie crust was placed in the pie plate and filled, I dripped a bit of milk on the crust edges in hopes that they would brown and covered them in foil to keep them from burning. I then followed my recipe directions for baking time and temperature. I can usually tell the doneness of something by its golden brown color. This pie crust doesn't seem to brown very much! As it baked it became flaky and preferred to fall off at the rim crust. That is something I wasn't expecting would happen and figure it did because of the rice flour and potato starch as main ingredients. It is a bit difficult to describe it's texture as it was flaky, doughy and chewy, all things I've never experienced with wheat flour crusts. The taste was a bit like eating a potato; it was a bit bland to me. But in no way did I think this crust ruined my pie or make it inedible.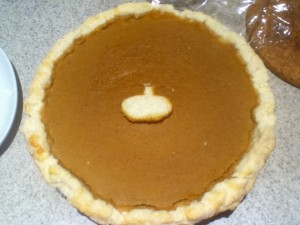 I recommend trying this crust if you have gluten intolerance, just don't expect it to taste, acts or look like a wheat flour crust would. If you don't have any idea what you'd like to make with this crust mix, Bob's has a great recipe selection specifically for gluten free crusts, find it here. It's a fantastic alternative if needed in your diet. Bob's Red Mill is an employee-owned company and offers an entire product line of gluten free items that help you not miss out on any wonderful meals that may normally contain gluten. Check out some of their other all-in-one mixes, including gluten free brownie, chocolate cake, chocolate chip cookie and cinnamon raisin bread mixes. Bob's Red Mill also offers organic varieties of products including, soup mixes, cereals and entrée items. If you're looking for an obscure grain, the Red Mill probably has it! See all of their products at www.BobsRedMill.com.