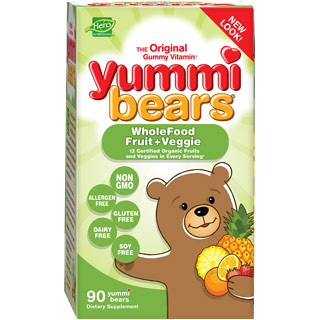 Vitamins are so tricky for me, especially when it comes to my kids.  There are so many to choose from and many of them have extra junk in them that my kids simply don't need.  So, I don't usually buy them and focus on a healthy, organic diet(mostly vegetarian) instead.  When I had the opportunity for my kids(they are 11 and 15) to try the Yummi Bears, I was definitely open to seeing what they thought and to seeing the label and what kind of "stuff" was in the vitamins.  For the purpose of this review, we received the Multi-Vitamin and Mineral, Super Vision, and Wholefood gummies(Okay, I did sneak one of each so I could taste them for myself).
First, let's talk about the taste.  Absolutely, no doubt that they taste, well, yummy!  The kids both really enjoyed eating them and considered them a bit of a treat(we rarely buy candy).  As far as the ingredients, there is a LOT to like about Yummi Bears.  First, I will tell what they DON'T have and that's gluten, casein, eggs, soy, no shellfish, nothing artificial and no preservatives!  There is a bigger list on the boxes, but that gives you an idea.
What they DO have is a whole lot of goodness!  For example, the Wholefood gummies have 16 certified organic fruit and vegetable concentrates!   That is a big deal for me.  Real food in vitamins, that my kids like, is a great bonus.
The only negative for me is the cost.  A serving is three of the gummies so with 90 in the bottle and two kids, that is only a 15 day supply. Yikes.  If you NEED a way to get some extra nutrients into your childrens' bodies, I definitely recommend the Yummi Bears.  For me, I will have so stick with a super healthy daily diet for mine.