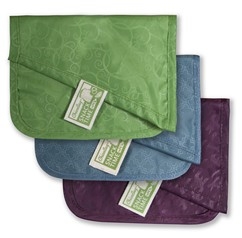 Spurred on by the obscene amount of single use plastic bags, current ChicoBag president Andy Keller saw on a trip to the landfill and his way home one day in 2004. He vowed to stop using single-use bags, instead he began sewing his own reusable bags and creating what would be the first product of ChicoBag. To create a reusable bag that was unique Andy made sure to include nifty features that people always seem to need but don't always get; like a storage pouch and carabineer clip. To reduce ChicoBag's environmental impact, in 2008 they introduced rePete products. These products help consumers identify ChicoBag products that are made using recycled content.
ChicoBag hasn't restricted itself to only creating reusable bags. They have happily branched out to other fantastic reusable items, such as the Snack Time rePete. It was created to replace single-use sandwich bags, which people may not even realize can be just as wasteful as full size plastic bags. Snack Time rePete comes as a set of three, which is a fantastic deal because they even double as extra large sandwich bags. It is re-sealable with Velcro and an extra folded flap to make it small or larger depending on the size of the sandwich or food you are trying to take along. That I think is an ingenious idea, as it does double duty without creating another product. I have used it countless times already to bring my lunch and snack to work. It easily of course holds a sandwich, muffins and a large serving of Cheerios, in separate bags though.
Made of 78% recycled material with a fantastic subtle print design, which is food-safe, water and stain resistant for easy cleaning. It is so true, water beads right up and slides off the interior liner so very easily. The outer material is certainly stain resistant, as I mistakenly dropped a bit of my tomato soup on it and was bummed I may have ruined it. When I went to wash it I could barely find the stain, a bit of water helped it to disappear completely. However the outer material seems to soak up water and hold it for a while, so make sure you allow it to air dry well. Or just throw it in with the laundry, as they are machine washable. If you're not sure what to do with your Snack Time rePete once you've used it so many times that you are in need of a new set, don't just throw your old ones away! ChicoBag want them back, so they can recycle them properly. I think that is fantastic and responsible of the company. Though this is not a new concept, I haven't come across many companies who do – mostly just shoe and printer ink companies.
One of the best features you ask? The amount of food it can hold (besides the eco-friendly value) without a doubt. I feel like I could easily fit two sandwiches together in the same bag when used as the larger compartment. Easily holding several serving sizes of Cheerios is not a problem, so don't be afraid to load it up with your favorite food or snack. Forget about your single use sandwich bags, they might miss you, but you won't miss them with the convenience of these reusable bags. I have another item from ChicoBag to use and review so you may want to check back for that, as I hope for good results from that product perhaps as much as I have enjoyed this one.