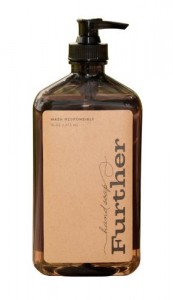 Grease has never smelled so good!
My first encounter with Further Hand Soap was in the ladies restroom at the Macaroni Grill restaurant in Flanders, New Jersey. After indulging in some greasy finger foods, Further Hand Soap's light, fresh scent eliminated all existent odors, leaving my hands feeling clean and smooth for hours. Upon further exploration, I found that this product is created from the glycerin derived from the distillation of biofuel. In essence, Marshall Dostal, Further's creator, collects depleted waste grease from some of Los Angeles' finest restaurants, converts this material into biofuel in his very own garage, and distributes the final hand soap product back to the very same restaurant's restrooms. What a great byproduct of the "reduce, reuse, and recycle" movement! The process doesn't stop here…fragrant oils are added to this aromatic mixture, along with the luxurious scents of bergamot and exotic grasses. Marshall takes his "green thumb" a bit further, by creating a re-purposing product that is not tested on animals and is biodegradable. This wonderful hand soap gets an A+ in my book!
Please wash responsibly!