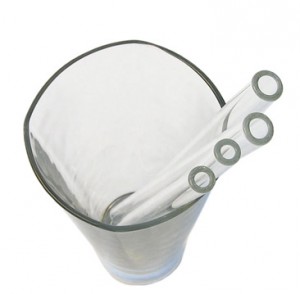 Most people in the world do things out of convenience – whatever is easiest, even if that means at the cost of hurting the earth. The usual straws that people think of are "plastic" made from polypropylene or polystyrene, both of which are chemicals that may worry some parents because of their manufacturing process, just as similar concerns of BPA in plastics has risen.
Why not avoid it all together and not use single-use straws? Kudos to those of you who wash and reuse those plastics straws, it's a step in the right direction. So to get even more use out of reusing a straw I offer you an alternative: Strawesome. Say what? Yup, Strawesome. They are hand-made, eco-friendly reusable glass straws in variety of styles and colors.
I had the great pleasure of finding out about Strawesome at the Green Festival in NYC in April. I met Artist & President Daedra Surowiec when I came across her booth at the festival. I was smitten right away with her products. She added such fun designs to the straws and had so many colors of glass to choose from. A great benefit to these options is that everyone in your family can get their own design or color, so everyone knows who's is who's – especially kids who would usually argue about such things. She even offers custom sets, which you can label with each person's initial. They even offer a kids line of straws, sized just right for them.
Besides thinking how nifty of an idea this was, I did worry that a glass straw being used in a glass cup would create some trouble. Well after much use that wasn't the case at all. I don't often drink from a straw, but did find great use for it when sipping tea, iced coffee and orange juice, as I prefer to have those types of liquids avoid contact with my teeth as much as possible.
Strawesome has thought of just about everything regarding these straws. They offer different options including different lengths, styles (barely bent or straight) and different diameters based on your use. I was able to review a standard 8" length Smoothie (12mm) straw. As you may figure it is suggested to be used for thicker drinks, like milkshakes and smoothies. Though it functioned just as well for thinner beverages that I mentioned earlier, I did have a chance to try out the Skinny straw (idea for cocktails and tea). The biggest difference was that the skinny straw seem to help allow the beverage I was drinking get through the straw faster, as it seemed to shoot the beverage quickly. If you need to enjoy your beverage in a hurry the skinny size is the way to go.
These straws weren't as fragile as I had expected they might be, though I never handled them roughly. A quick rinse with warm soapy water gets them clean or put them in the dishwasher, as they are safe for that too. If you've got a colored glass straw and can't tell if it's completely clean, they offer a cleaning brush (comes with most sets) just to make sure. And if you're on the go, you can even pick out a carrying case for your straw too to prevent scratches and damage.
Now if you thought investing in a reusable straw was just going to leave you with a straw in broken pieces down the road, you are in luck because that is not true at all. If your straw chips, cracks or breaks, just fill out their replacement form online and they'll send you a new straw. All straws come with a lifetime guarantee and to me that is a great investment and a great way for me to put my trust in this product. There are most styles and colors to choose from than I can describe here, so click over to their site and check out what might be a good straw for you. This is an eco-friendly investment you will use for years to come.