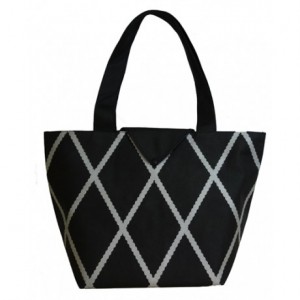 If you have trouble finding a quality reusable bag, look no further than Snapsac and their fantastic line of affordable tote, cooler and lunch bags. Start your year with a reusable eco-friendly purchase that Mother Nature would approve of.
I've had the pleasure of reviewing the petite Natasha totes in silver and gold. During my use of these bags I found they were constructed great, with two layers of fabric, giving me the confidence to load it up with my groceries, even canned goods and not have a fear of the straps breaking on the way to the car or into the house. (Though I would say to make it easier for yourself, you should opt to purchase their grocery tote, since that is what it was designed for.) No extra support was needed to easily carry these bags on my shoulders because of the long handles; which are sewn to the bottom for extra strength.
I think these bags are too nice of quality to use for food shopping. Instead I would have no problem tossing some clothing into this bag for an overnight stay or trip to the gym, they are just that fashionable. All bags feature a small inner pocket to keep all your small goodies from floating around the bottom of your bag – the pocket and entire bag snaps shut too!
Any eco-friendly bag needs to have several benefits besides just being a bag and snapsac has a bunch. Aside from the benefits I've already mentioned it folds up and snaps closed for easy flat storage in the similar way the popular Longchamp bags do. With a snap in three places: at the folding, at the top, and at the pocket it is certain you won't have a problem keeping this tote tucked together. This is a great benefit because the handles are securely inside the bag, which makes it less obvious that you are carrying around an empty tote bag; I never know what to do with bag handles anyways.
You ask what is the best benefit of these bags? They are super affordable! With their petite bags in Sarika & Pop styles priced at only $3.99 and a set of 3 bags from their Neutral or Pop style at a few bucks under $20 these are fantastic grabs to start your New Year off on the right eco-friendly foot.