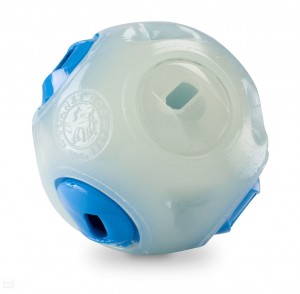 This is a Glow-in-the-Dark Whistle Ball by Orbee-Tuff.
The texture is soft but a little sticky. I noticed my dog's hair and the grass sticks to it a lot, but I can easily get it off by rinsing it under the stink.
It has yet to whistle, I have thrown it far and soft and I have not heard it whistle yet. My dogs chased it the first few times I threw it but they seem to not love it. I am not sure if it is the texture or if it is difficult for them to pick up. It has a few plastic whistle pieces connected, maybe that is an odd feeling in their mouth. This toy is intended for tossing, not chewing,
I also noticed it smells minty. I would think that the smell would make them more attracted to playing with it, but it doesn't seem to. It does glow in the dark nicely, I sometimes hold it under the light to start it up.
Overall, I felt that the dogs liked this toy but only for a short time. They seemed to get over it quickly. Non-toxic, recyclable and made in the U.S.A.