Hi all! I've wanted to share some eco-friendly items I came across but don't have the opportunity to do a full-length review. Perhaps some will catch your eco-eye too!
Juice in the Box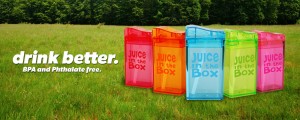 I came across this cute and reusable item on Pinterest, this app has so many fun eco ideas. I wish Juice in the Box was around when I was a kid in school, I imagine I could have saved hundreds of juice box packages from ending up in the landfills.
Now you can save juice box packages from ending up in the landfills too with this silicon and indestructible tritan plastic box that holds 8oz. of your favorite healthy beverage. It has a lockable latched lid that covers and protects the silicone straw. Hoping that it doesn't leak when placed on its side during lunch box storage, I think this is a nice alternative to reusable water bottles and thermoses for kids lunches. It comes in 5 different colors and all are BPA & phthalate free and dishwasher safe.
Plushbeds Green/Environmental Scholarship
We reviewed Plushbed's Natural Latex Pillow a while ago and thought they were great. So we're happy to share with you Plushbeds' college student scholarships. They are offering a $1,000 scholarship to any student enrolled in undergraduate or graduate green degree in the Fall 2014 or Spring 2015 semester. Deadline submission is August 15, 2014. See full scholarship and essay submission details on their website here. Best of luck!
Whole Foods Grind Your Own Peanut Butter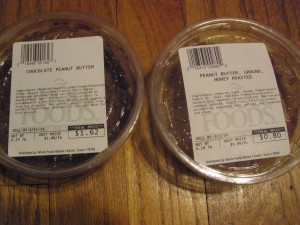 For a special treat I finally got around to trying the "Grind Your Own" peanut butter at Whole Foods. As so many friends and fellow bloggers have raved as how good it is, so I gave in and had to make my own. Unfortunately I can't say I share the same opinion of all other that have loved it.
It was for sure fun to have freshly ground peanut butter, but that allowed for it to still be very gritty in consistency. It wasn't as smooth as I was expecting as compared to the peanut butter I purchase from Trader Joe's. To me it was similar to the texture of Justin's Organic Peanut Butter. I tried to the Honey Roasted (which are my favorite type of peanuts) and the Dark Chocolate Peanut Butter. Honey Roasted didn't taste any sweeter, but the chocolate was fantastic to have as an addition in the cupboard. The only thing I wish was that they were organic peanuts, for the cost I think they should be. Give it a try and see how fresh this peanut butter can be.