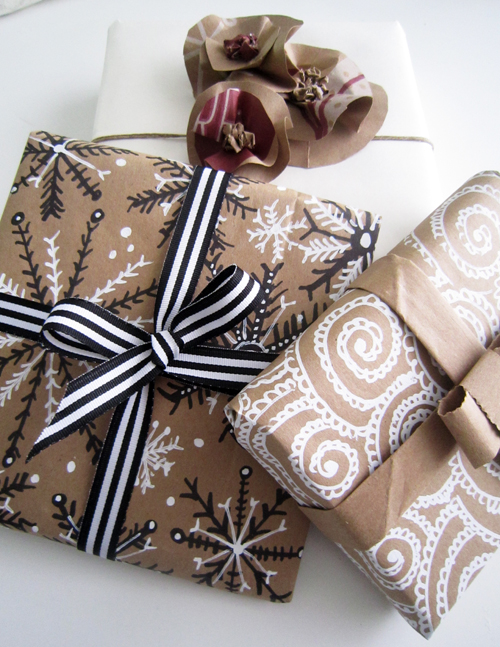 (Source)
I'm always in favor of beautifully wrapped gifts and with Valentine's Day fast approaching take these couple of steps to make your wrapping a bit more eco-friendly. Papers, ribbons and other trinkets to make it elegant can come at a cost to the environment, mostly since for many people they are one-time use items. Here are some ideas that can help.
- Make your own wrapping paper: It takes energy and fuels to create the pre-printed designs we are all used to picking up at the store. Instead of stock piling it all in your closet, why not make your own? It is also far more meaningful too! Here are some great ideas on how to create your, homemade wrapping paper second version here from artist Alisa Burke.
- Use ribbon or string instead of tape: To minimize the use of plastic tape, which isn't recyclable, try using string or twine to keep your wrapping paper attached to your gift. Most gifts can be wrapped with at most three pieces of tape and assisted with string or ribbon. Though ribbon isn't as organic as string, it is still good to use since the gift recipient can reuse it.

- Incorporate nature with your gift: The use of some berries or natural twigs can enhance the display of the gift. Using these types of items also doesn't mean any more to the landfill since they will end up decomposing themselves.
- Check out Wrappily.com: Monday's review was about great eco-friendly, 100% recyclable wrapping paper made with soy ink and printed on newsprint paper. If you aren't very crafty for any of the above wrapping paper suggestions, Wrappily is your best bet for an eco-friendly wrapping paper option you can't make yourself.