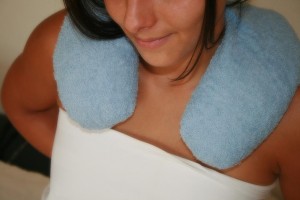 Cherry pits; something that I thought would just be found in a compost pile is an ingenious ingredient in a reusable-reheatable heat pack. I think this product is a great eco way to relax your muscles as an alternative to an electric heating pad. I received the "neck hugger" warmables, created with fabric remnants, to reduce cost to the customer. Though I felt that the fabric used for my product was a bit too thin to support the weight of the cherry pits as the neck hugger seemed to flop around and lose its shape more than I expected it would. Perhaps thicker fabric would not allow you to feel the heat as easily. Perhaps the terry cloth versions, which are also available would be more sturdy. Though it does have a benefit to be very moldable to whatever area you need. I even tried my neck hugger on my leg after an intense workout and it fit perfectly to gently warm my leg and help my soreness.
The scent of the cherry pits doesn't exactly remind me of cherries, as I had hoped it would. This smell isn't that strong overall, but more noticeable when the neck hugger was warmed and place on my neck. It wasn't a pleasing scent but did not stop me from using the product for its benefits. I would suggest perhaps spraying it with an enjoyable scent or essential oil as the website suggests.
My only concern between choosing this and the traditional version of this product would be the price, for the heating feature. The neck hugger seemed to be about the same or a bit more expensive than a traditional electric heating pad. If you are a traditionalist, this product may not seem to be the best choice for your money. However eventually your electric heating pad will fail but the warmables will never as the cherry pits can be warmed or frozen countless times. With warmables unlike an electric heating pad you aren't confined to use it near an outlet. So this product seems to be a better buy since I rarely hear of people being able to freeze their heating pads.
I tried the neck hugger as a cold pack for my shoulder and really loved how it worked and was able to contour to my shoulder just as easily as it did to my leg. However I feel as though it lost its cold faster than it lost its heat. The only downside to the cold use is that it takes longer to cool it than it does to heat it. To use it as a cold pack – place in freezer for several house before use.
The sample that I received was created with up-cycled materials; cherry pits, pre/post consumer fabric and even the label was made from left over transfer paper. This is something I am pleased to know as this company is taking eco-friendly to a new level, which not every eco-friendly company does. As well as their product being upcycled – their shipping boxes are also up-cycled, though they do offer the option to customers to request new shipping boxes. Those who are located locally to this New Jersey based company even have the option to pick up their purchase to be even more economical about their purchase.
Upon viewing their website I saw that they do have a few other products, most were similar in use to the neck hugger, to warm other body parts. But I found the warmables lunch kit a very interesting product, as these seem like mini versions of the large product I was sent. These are probably safter to have next to your food instead of those blue gel packs, which always have the possibility of leaking or breaking. I wouldn't want that gel all over my food, but if a few cherry pits ever escaped it wouldn't be a big deal. I have not tried the warmables lunch kit but it seems as though there is no reason not to. Warmables, a great natural heat or cold treatment.
As a special offer to our readers warmables is offering Free Shipping until October 7th. As well as with the order of any heat packs, receive a .5oz bottle of essential oil for free. Use the code ECO CHICK in the special instructions box when ordering.