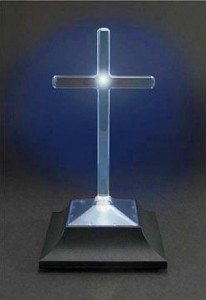 The serenity light is a great eco-friendly way to display a remembrance item. It is made from plastic, which does seem a bit fragile and prone to cracking. Yet has not cracked or broke yet.
I have placed it in my garden, to light the area at night. It is a subtle glow reflected upon my fence to brighten the evening. It easily charges with a days sunlight and holds that charge all night.
The one unfortunate thing I found with this item is that it seems to only be offered in a cross shape. That may be subtle as one would hope, perhaps a flame would be more universal for all.
It comes with two AA batteries and has an off switch to conserve power. This is a good product if you're looking for a basic display ornamental item for your garden or cemetery display.