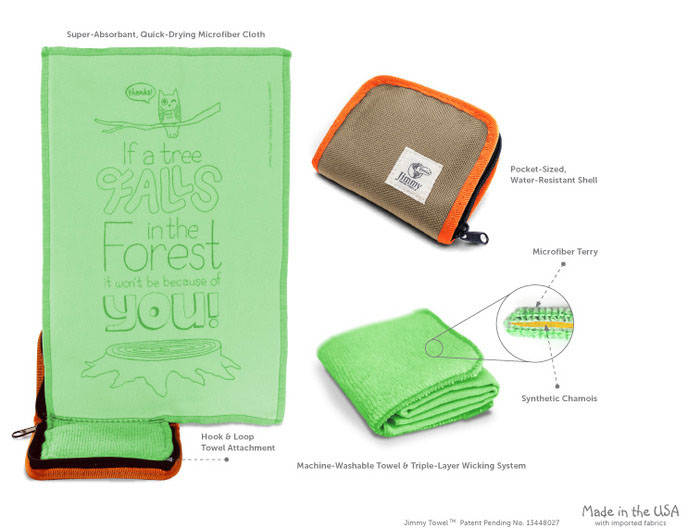 This is easily my new favorite product and totally one of those "why didn't I think of that" ideas. Jimmy Pocket Towel is a super-absorbent; quick drying microfiber cloth that folds up into a pocket sized water resistant zippered case. This stemmed from inventor Alec Ramsey when he heard that a friend hadn't used a paper towel in over a year, opting to dry his hands on his pants instead. Inspiring the creation of Jimmy Pocket Towel to reduce their own personal paper towel consumption.
It is a great item for drying your hands and wiping up small spills or messes when not at home, with it's removable, washable and reusable towel. No need to worry about having a damp towel to carry around with you the rest of the day, when folded in its case it is surrounded by a microfiber terry that helps to absorb moisture. Though you also have the option to allow it to be hung up to air dry. But you won't have to worry about that for about 5-6 uses before it becomes too wet. Though when it is drying it does so very quickly, a great benefit for those on the go.
My experience with using Jimmy Pocket has been fantastic! I use it at work everyday and mostly every time I wash my hands, since remembering to bring it with me is a new habit to form. The real benefit is when using it while out in public and knowing you are saving the planet while the others in the bathroom are reaching for a paper towel and finding a place to toss it while you are walking out the door zipping your Jimmy Pocket Towel closed. I have a great peace of mind when a guest in a person's home that instead of using a hand towel that might be used by others, I prefer to know that I'm the only one using my Jimmy Pocket Towel and will have it fresh and clean each week when washed.
I love the fantastic screen-printed design on the towel, which has a different eco-friendly reminder/drawing for each of the 6 color and 4 wool combinations it is offered in. Unlike other screen-printed designs I have yet to see that it has cracked or peeled, which is sometimes the issue when the fabric is not kept smooth. I was unsure if I would pay the estimated retail cost of the basic Jimmy Pocket Towel – starting at $24, though when I thought about it more, what you truly are paying for is to save the planet and help keep trees around for future generations to enjoy and that is something I would consider priceless.
My Jimmy Pocket Towel has held up great for several weeks of constant daily use, though I would be concerned about the constant zipping opening and closed may get off track. It has yet to happen, I would hope an item like this would have longevity to not be deterred by a flimsy zipper. The pull-tab of the zipper falls into the same category of being worried of premature breakage. On occasion I found that without having my towel stuck in the zipper, it was a bit difficult to close and required a little more force than I thought the small zipper pull could handle to close it. This occurrence did not happen every time but worry it could become a problem in the future. Perhaps a more durable zipper and zipper pull if possible could be added. But aside from that I love my Jimmy Pocket Towel just the way it is!
I am one of the very lucky ones to have been able to receive a Jimmy Pocket Towel before you can buy one. That is because they are currently looking to raise funding on Kickstarter.com. They are raising funds to place their first bulk fabric order and mass production run manufactured in the United States. As of this posting they currently have 9 days left on their Kickstarter funding (ending December 27th) to meet their goal of $15,000 to receive their funding and approximately only needing $1,400 more to get there. Surely when great ideas to help the environment are created we can help to bring them to life. If you like this product just as much as I do, head on over to their Kickstarter page and pledge what you can. Every little bit helps and get them close to their goal and paper towel-less world.
Now for the most fantastic part of this review; the giveaway! Alec Ramsey and the great folks behind Jimmy Pocket Towel have donated 3 pocket towels to give to our readers. Yes that's right, you can have your own personal pocket towel before you can buy them (if you donate on Kickstarter and their funds are reached the estimated delivery is March 2013) so here's your chance to grab one now. We are offering a gender neutral color-so you don't have to worry about receiving a crazy color.
To enter to win, simply comment below and tell us why you would be excited to win your own Jimmy Pocket Towel. If you plan to re-gift it or send your towel to someone for the holidays, let us know whom you'd send it to and why.
For an extra entry, you can also tweet some variation of the following: "Hoping to win a @jimmytowel from @leafygreeninfo http://tinyurl.com/cbdn5jg"
If you tweet please leave us another comment letting us know you did so we can be sure to count your extra entry.
We will select a winner Friday evening, so enter all week long.
Edited 12/22/12: Thanks for entering! GIVEAWAY IS NOW CLOSED.