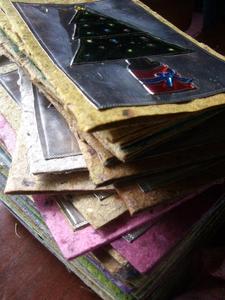 Of all the reviews I've written so far, this one has probably done the most good for the people, the earth and humanity. Registered UK charity, The Earth Education Project (EEP) teaches women from the Chureca community in Nicaragua how to recycle scrap paper BY HAND and create absolutely beautiful, hand-made artisan cards. The Chureca community is Central America's largest rubbish dump. Prior to EEP, the women supported their families by scavenging the dump for food and items to resell.
It's so nice these days to receive a card in the mail given all the texting, e-mailing, tweeting, e-cards-and the list goes on and on. Choosing and sending cards is an art which we seem to be lost to, which is a real shame! I was so taken back by the prettiness of these cards that it was somewhat difficult to actually give them away. They are truly special, a gift within themselves! They are artwork and worthy of being framed. After the initial selfishness wore off I felt great sending each and every one of them. The line includes birthday cards, holiday cards, Love cards and each comes in an equally attractive recycled envelope. A true pleasure to give and receive!
All of the cards are handmade using recycled materials, the metal on the front of the cards is from recycled tin cans and the colour of the paper comes from natural dye which is made from flowers and vegetable peels. The cards are designed by an artist Sophie Argles form the UK and the women themselves. They are wonderfully colorful, sparkly and earthy all at the same time with a unique, appealing texture. This year they will be adding personalized collections such as wedding invitations, company greeting cards and personalized stationary. SIGN me up! Other products handcrafted by the women include gift bags, notebooks, jewelry and home ware items using time-honored paper making techniques.
Not only are the cards gorgeous but EEP additionally provides the women with monthly economic support, literacy and nutrition lessons, healthcare support and much more. What a great program! I can't say enough about these cards except that I may never buy another Hallmark again! Lastly, this program emphasizes sustainability through education and aims to solve more than just the very big problem of poverty. I feel the EEP is giving the women in this community much, much more. Their website is more than inspiring. It's a spectacular place to shop and to learn about the possibilities that are out in Education for Sustainability that you just can't argue!