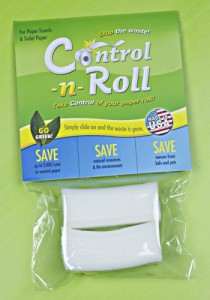 When Priscilla from Control n Roll contacted me about their eco-bathroom product, I had not considered that I was possibly being wasteful with my toilet paper use. At a very young age that was a great habit my mother had instilled in me, not to waste such paper products. That's also likely for the sake of having a clogged toilet from too much paper. Thus why I didn't think I could save even more with Control n Roll.
Their product is essentially a tube of foam that you slip over your toilet paper or paper towel bar and helps your paper move even slower. Making you realize you could even use less. It comes in several diameters but found that I used the largest diameter the most often. It also comes with a rubber washer for use with the toilet paper dispenser, though I found that mine easily worked its way off, so perhaps it wasn't as necessary as they suggest. Installation was a breeze for either application, in the bathroom or kitchen.
I do have a hard time deciding where I find I have more savings. This foam square has happily helped to allow me to tear paper towels with one hand, when I do use paper towels. As I try to use kitchen towels when cooking and cleaning to reduce waste. I am probably guilty of using an extra one or two sheets of toilet paper just because momentum has kept the roll going even though I didn't need them. Control n Roll works by allowing more tension on the roll so that it is a bit more difficult to pull. Though sometimes that results in the roll ripping before you're ready. That would be the only negative I found if any, but also could be user error. It helps to save those few sheets because in the end they do begin to add up. It helped me to be more conscious of what I was wasting.
There isn't too much to this product, just foam and rubber washer, so the price of $3.96 is pretty reasonable (comes with two) even if you think it might not work for you, it's cheap enough to take the chance. On their website though their shipping is $5.00, I'd have to pay more in shipping than the actual item costs? That I do not like. Perhaps if Control n Roll makes it into stores (Bed, Bath & Beyond?) the lack of a shipping fee may help persuade first time buyers. I was much more pleased with this product than I expected to be and seems to be one of those "why didn't I think of that?" types of products. It is that simple; that it makes me wonder what other uses or materials I could make for it. Give it a try; you might be happy you did.