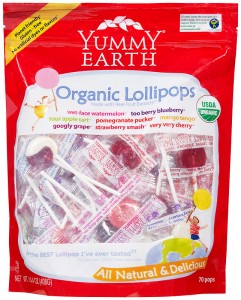 Yummy Earth Assorted USDA Organic Lollipops made from real fruit extracts are bursting with natural fruit flavors! It's evident from the first lick! Exotic flavors range from Tooberry Blueberry, Wet-Face Watermelon, Pomegranate Pucker and Mango Tango.
YummyEarth tastes much better than overly sweet, mass produced chemical candy because real fruit extracts and organic ingredients are used. The yummy pops contain no chemical dyes, are made from natural colors, are allergen free, gluten free and wheat free. WOW!
My son absolutely loved them and gave them out as Valentine treats. I didn't have to worry about allergies, a common concern in schools nowadays. I was giving out a delicious, healthy, organic treat while not depriving the kids of their sweets! My son didn't notice any difference in the candy except how fruity and delicious the lollipops tasted! YummyEarth was born out of a commitment to feed babies, delicious organic foods that are free of harmful chemicals, pesticides and dyes.
I'm definitely going to buy myself some more of these suckers and recommend them to all my friends with kids! They also freshen your breath and have a long lasting fruity flavor, satisfying my sweet tooth!!!!! What can I say? These lollipops are winners in every way! Thank you YummyEarth!