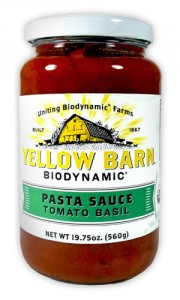 Yellow Barn is a product line from GoodBoy Organics that features pasta sauces, tomato concentrate and puree that are biodynamic certified. That means the farm that all the ingredients come from is sustainable, organic, holistically managed to allow a self-sustaining ecosystem. They are pretty much doing all that they can to provide quality ingredients for their products and using minimal ingredients to create them.
This Tomato Basil pasta sauce only has seven ingredients and a vibrant flavor that I've never tasted from other jarred sauces. I'm certain the basil is the most aromatic ingredient, giving a taste that was interesting. Perhaps because it is organic and has very few ingredients you get to taste the ingredients fully. This helped me to learn that perhaps I'm not really a huge fan of basil. Nothing against the sauce itself, it's good quality ingredients and that is my number one requirement – fulfilled. The flavor was not my favorite, I much more prefer their (spicy) Arrabbiata sauce (full review to come shortly).
As the second ingredient being olive oil, I shouldn't have been so disappointed that there was so much of it once reheated left in the bottom of my bowl. I didn't enjoy seeing little pools of oil in the bottom of my bowl when I was done, knowing that I was eating even more oil all along. I understand the need for oil but wish perhaps they would lessen the amount. It's just my personal preference to use olive oil sparingly when cooking and don't feel a liquid tomato sauce needs any extra liquid added to it.
Despite not loving the flavor (but also not hating it) or oil content, I am over the moon that the company cares about their customers and happily explains why their salt isn't organic and why it can't be (hint: it's a mineral) right on their products page. They have a great social responsibility to help their customers understand what they are purchasing and they do a fantastic job of that. You can even learn more about why the ingredients they use matter, on their site. A company that is so transparent with their ingredients and process is so refreshing to encounter! Their social responsibility is outstanding by making a Non-GMO, organic, biodynamic and gluten-free certified product. For a store bought product from a jar I think this is as close to making it at home as you could get. For their entire line of sauce, check out their website here.