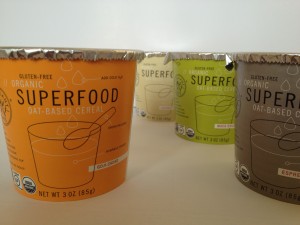 I have to start by saying that I love oatmeal. I eat it nearly every single day so I was excited to try the Organic Super Food Oat-Based Cereal from Vigilant Eats. Unfortunately, it didn't go as well as I had hoped it would. Here is some of what I love about this product:
• No additives
• No preservatives
• No Refined Sugar
• Non-GMO
• Organic
For those reasons alone, the Vigilant Eats Cereal is a definite winner for the health-conscious eater who needs something on-the-go. The container comes sealed with a packect inside so all you need to add is your favorite liquid when you get hungry. If you would like to keep it completely Vegan you can simply add cold or hot water, but if you prefer milk in your oatmeal cereal that's a suggestion, too.
I received two of the 3 ounce containers, both in the Goji-Cacao flavor. When I opened the first one I decided to eat it the same way I eat my regular oatmeal, which is with hot water. The consistency just wasn't right for me. I felt like I added more than enough water, but it was just sticky and thick, making it difficult to eat. It's entirely possible that I didn't add enough water, but I don't believe it was made to be eaten that way as the directions encourage the use of cold water. I decided to try that method with the second package of the Vigilant Eats Cereal. Again, the consistency just wasn't there for me. This time it was a bit more runny and just not enjoyable, which is probably because the only way I've ever eaten an oat-based cereal is hot and that is quite honestly how I prefer it.
The bottom line is that I love the list of ingredients on the container of Vigilant Eats Oat-Based Cereal because they are organic with a healthy amount of fiber and protein, but it simply isn't a match for me and my taste for cereal. If you enjoy eating oat-based cereals cold, either with water or milk, I think you might just love this product!