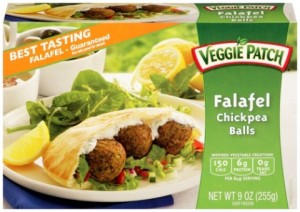 I usually stick with fresh food that I can use to create to make my own meal. Yet when I got the chance to try several foods by VeggiePatch I was excited to have some quick "heat & eat" foods on hand. I've had the chance to try several foods from VeggiePatch, but this review is just for their amazing Falafel Chickpea Bites (I'll be linking the other reviews once they post too). With authentic flavors of the Mediterranean (though I've never actually been there to know how it tastes for sure) these were definitely to my liking. As well as the great flavor, they have no artificial flavors, colors or preservatives.
Veggiepatch is a company that makes products for people who choose to make their meals meatless but still want something that is full of flavor. Their products range from meatless burgers, hotdogs and chicken to veggie products and kid-friendly snacks. These are great options for vegetarians or those who may just be looking to add a meatless night to their meal plan.
I already love chickpeas, I'm a sucker for my Aunt's Lebanese hummus. So it was already clear to me I would already enjoy this product, and enjoy I did. I found so many creative ways to enjoy these chickpeas. By making a pita pocket, crushing them to use over a salad and even making a regular old plate of spaghetti, sauce and falafel chickpeas instead of beef meatballs. It is a great quick protein, all with ingredients I recognize and understand (with the exception of potassium chloride, modified cellulose gum and cultured dextrose.) Unfortunately these chickpea balls are not vegan, as they may contain traces of egg, soy and sesame. But besides that, they are super great for some quick reheated food (about 60 seconds in the microwave) and in my opinion they are a much better alternative to highly processed frozen dinners. Be on the look out for my review of their other foods, including chick'n nuggets and broccoli bites.