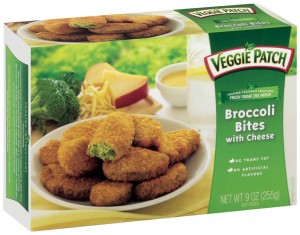 These Broccoli Bites with Cheese are the final items I've had a chance to try from VeggiePatch. (See my reviews for Chickpea Falafel Bites, Meatless Meatballs and Chick'n Nuggets) I love broccoli, it is a great vegetable and can be made so many ways so I was excited to try VeggiePatch's Broccoli Bites with Cheese.
I happily noted that the first ingredient is broccoli, which is a great thing. Unfortunately I wasn't a huge fan that water was the next ingredient. It makes me wonder if that is what contributed to the lack of flavor/broccoli taste. I was pretty disappointed about these bites, I had expected a lot more flavor; of broccoli, cheese and spices. What was good is that they do have a great texture, especially when they are made in an oven. The breadcrumbs are fantastic and crisp up nicely for a great crunch when you bite into it. The cheese also gets gooey, but like the broccoli it doesn't taste much like cheese to me. Microwaving them does turn them into a pile of mush that isn't even worth each. Highly recommending baking these instead!
To combat this seemingly flavorless snack I created some dips to bump up the flavor. It did help but made me bummed at the fact that I was looking forward to enjoying these bites without any sort of extra flavoring. I will say that they can become filling enough for a meal. So there is some nutritional value in them. I might say I would buy these again to give them another chance, but of all the VeggiePatch products I have reviewed they were my least favorite. As always there is no artificial flavor and 0g trans fat.