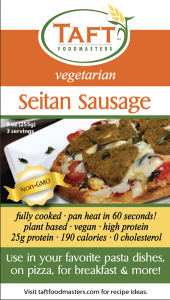 Though I am not a strict vegetarian, I am open to trying such foods generally reserved for those who prefer to avoid meats. When I was asked to review Taft Foods Seitan Sausage I wasn't exactly sure what Seitan meant. So like any good eco-writer I researched it and was happy to find out it was products made from wheat, also known as wheat gluten. It is kosher, non-GMO, vegan and chemical/preservative free.
Not knowing exactly what to make with it, I did as the image on the package showed and topped my handmade pizza with it instead of pepperoni. Though it was a bit thicker than pepperoni would have been, it was still a nice topping alternative to my preferred meat choice.
Since it doesn't actually have to be cooked, since it is fully cooked already. A short amount of time in the microwave or on the stovetop does the trick. But as I learned the Seitan Sausage could quickly become overly dry and chewy/tough. I imagine this would be because unlike traditional sausage it has no fat to help cooking and retaining moisture. Flavor-wise I really enjoyed it! It had great spices and flavor even if it isn't meat. I enjoy spicy foods and found that it did have a slight kick to it but nothing too crazy spicy. The spices helped me to forget that it wasn't actually sausage I was eating.
I tried a few different meals with the Setain Sausage, including a breakfast of eggs and sausage. This is where texture became a concern. Traditional breakfast sausage is usually in link or patty form and is generally thick in size. Unfortunately that is where this sausage very much differs. It was strange to me to eat the much thinner "sausage" that was closer to the thickness of a couple credit cards stacked on top of each other. It was too flat for me when I had become accustomed to links or patties for breakfast. I am unsure why it doesn't come in standard sausage shapes, I think I would prefer it for cooking that way instead.
Now for the faux Philly cheesesteak I made by chopping up the remaining Setain Sausage that was best put to use as it was the same thinly sliced pieces of steak that is customarily used in a cheesesteak. Though it wasn't the same exact style of cut meat, it certainly was a good vegetarian version. This meat alternative is a great way to have a vegetarian night or to be incorporated into your vegetarian diet. Just don't cook it too long! Taft Foods also make Seitan Gyro, which I will be reviewing soon as well so check back for that in the future.