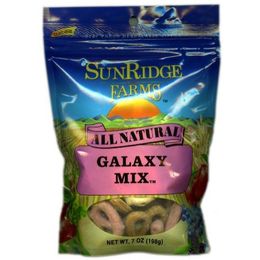 I have loved every product I have tried from SunRidge Farms so far. But unfortunately this time there wasn't much love for their Galaxy Mix. Perhaps I can contribute it to the fact that the items in the Galaxy Mix were never part of my childhood eating habits, so they take some adjusting to.
Yogurt covered pretzels haven't been my first choice for a sweet/salty snack. Though not much has ever been, I guess I like my snacks either all sweet or all salty. It is likely why my favorite part of this snack mix was the chocolate covered raisins. With the malt centers and yogurt covered pretzels tied for last place. All the ingredients are generally common items and simple to pronounce, but to me any of these snacks would be just as good without their "candy" coating. Like SunRidge Farms Sunny Bears, once you open this candy they suggest you refrigerate it. Maybe it's just me, but I prefer my chocolate at room temperature, not cold and rock hard. So I do find that to be a bit of an annoyance.
Just like their other all natural candies and confections, they never use titanium dioxide (a common artificial whitening agent) or hydrogenated oils. But they do include real vanilla, natural flavors and colors, real cocoa butter along with being sweetened with naturally evaporated cane juice or malt. These practices do help to make this a better choice of snacks compared to brand name ones that usually don't use real ingredients and make it cost efficient for them.