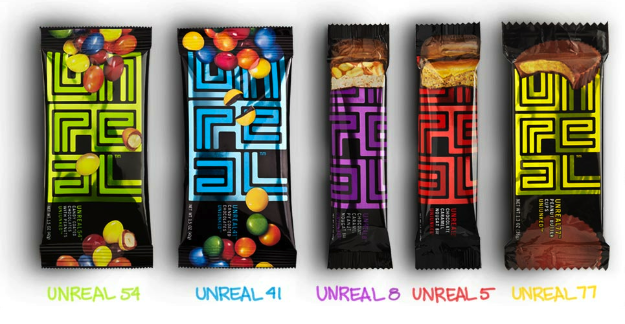 If you are trying to stick to your New Year's resolution and lose weight or get in better shape you know how a chocolate craving can undo all that great progress you made. No need to let temptation be a bad thing because I have reviewed a great product that will let you have your chocolate, eat it too and still fit into your swimsuit for the summer. "Unjunk your candy!"
UNREAL candy is a fantastic line of chocolate treats without the bad ingredients that mainstream treats include, such as corn syrup, partially hydrogenated oil, artificial ingredients, genetically modified organisms or preservatives or preservatives. The idea for chocolate treats without any of these came from a father/son argument, when 13 year old Nicky was upset at the confiscation of most of his Halloween candy at his father Michael's doing. Nicky went online to prove his father wrong, that it wasn't so bad. However, he found out the complete opposite, all these bad ingredients aren't even in the product to make it taste good, they are used to make the product cheaper to produce. With the idea of candy without these items, Nicky thought it might taste better. Michael and his two sons Nicky and Kris set out to prove that true.
UNREAL offers 5 types of chocolate treats, which are similar versions of mainstream candy like M&M's, Snickers, Milky Way & Reese's; but without any of that bad "junk." I am all for products that don't have ingredients that may harm us without us knowing. I don't eat candy or chocolate often, as it doesn't hold much nutritional value, but I would rather have something that doesn't include unnatural ingredients.
UNREAL54 are candy coated chocolates with peanuts, similar to M&M's with peanuts, similarly UNREAL41 are candy coated chocolates without peanuts as regular M&M's are. But that is where the similarities end; UNREAL has much more muted colors to their candy. Which is fine with me, I see no need for bright and shiny colors to attract me to the product. Either I already planned to eat it or not, bright colors won't influence me. The flavor of these were nothing like M&M's, that is not to say it is a bad thing. It was just different than I had been used to, as all my life it is likely Mars has never changed their M&M's recipe. Their flavoring is something I've likely become accustomed to with all their "junk" included. This flavor difference also recently happened with Newman O's chocolate sandwich cookies, which are comparable to Oreos. They looked the same but had an off flavor for the chocolate cookie part. With that said I think these alternative treats are something you can get used to with their flavor differences.
UNREAL8 is similar to Snickers as a chocolate caramel peanut nougat bar. If I had to choose a candy that I liked the least it would probably be this one. As I found the nougat to be a bit dry and not as creamy as I expected or am used to in the mainstream candy. Yet again likely because all that "junk" is what gave the mainstream candy the creaminess and taste I expected. Based on nutritional facts I would much rather eat an UNREAL8 bar than a Snickers.
UNREAL5 is the same as UNREAL8 but without peanuts, comparable to Milky Way's. Perhaps the lack of peanuts had helped to create a creamier bar, I thought it was a better taste choice over UNREAL8. It has a great chocolate taste and gooey caramel, which made me want to eat the entire bar in one sitting.
UNREAL77 peanut butter cups were my favorite of all 5 candies. It tasted like a perfect balance of creamy peanut butter and chocolate shell. There are two cups per package for sharing or enjoying both yourself. What pleasantly surprised me was the lack of an outer wrapper on the actual peanut butter cup. Something that is likely to be a terrible waste to the environment, which this product lacks. I thought that was a great change and didn't even miss that wrapper, which would otherwise be thrown away with the outer wrapper.
Not surprisingly, each one of these candy products have less calories than their mainstream comparisons, likely because UNREAL's serving sizes are smaller, something more manageable since these aren't always considered a treat but more of a snack for some. You don't have to wait to "unjunk" your chocolate craving, you can find these products already in major retailers nationwide such as CVS, Target, Michael's, Kroger, Staples, BJ's Wholesale Club and many others. I personally have already seen a display at my local Staples store and hope UNREAL will influence more people to eat cleaner.