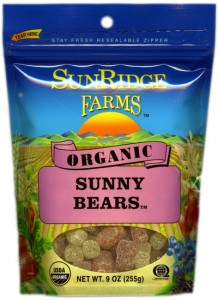 Do consumers always really know what exactly they are purchasing when they buy candy? Usually not, perhaps only the educated consumer who takes the time to read ingredient labels while shopping. But for those people who are too busy while shopping to check on those ingredients I have a wonderful review that takes the guess work out of candy: SunRidge Farms – Organic Sunny Bears.
Though I feel I should preface this review by letting you know that I've never been a fan of candy. Not even as a child did Fruit Roll-Ups or Fruit by the Foot interest me, chocolate was my go to sweet treat. So now that you know that, you can hopefully understand that I was so amazed at how much I enjoyed these 100% vegetarian and gelatin free Sunny Bears. I had expected a sticky, gooey chemical like candy but was pleasantly surprised by the use of natural ingredients. The taste was the complete opposite of what I had expected. They were not sticky or gooey, but refreshing and slightly tangy. Even with a familiar taste of those sugar coated orange and mint flavored candy slices of my youth. Reminding me of those great sugary treats is certainly not a bad thing, as SunRidge Farms has been able to take a great childhood treat and take out all the bad stuff for us. With 4 different colors/flavors in one bag you are sure to find a flavor you enjoy. I really preferred the orange and red ones the best, perhaps orange and cherry flavor.
Knowing they are organic, with no artificial flavors or colors of any kind make this candy something I could easily eat often unlike Fruit by the Foot. Sunny Bears even come in a resealable bag, so they stay fresh for your next sweet treat session. SunRidge Farms is a great innovator in organic food, creating candies, dried fruit, nuts & seeds, snacks & trail mixes that are free of refined sugars or hydrogenated oils. I have a couple other great items from SunRidge Farms to review, so check back soon to hear about them. Hint: One is a great add-in for oatmeal and the other is great on the trail.