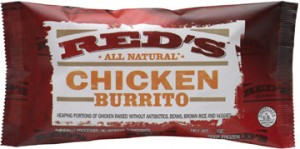 I don't find myself eating frozen meals often. If my meal needs to be in a hurry I'll generally opt for salad as a healthy choice. Mainly because I know exactly what goes into a simple quick meal like that. Meal from the frozen department at the food store are bit less obvious with exactly what goes into those meals, so it's easier to just avoid them. Unless those meals are dedicated to providing the best all natural ingredients you can find in a frozen meal.
Providing all natural ingredients is just the case with Red's All Natural Burritos. They use hormone and antibiotic free meat, rBGH (artificial growth hormone) free cheese, with no preservatives and are 100% all natural and Non-GMO. All these qualities certainly do make this sound like a meal with quality ingredients, so I was excited to try the few burritos that I picked up. Red's has many varieties of their burritos but unfortunately not all were available locally, so I was only able to snag the steak, chicken and turkey burrito options.
Unless ordered in a Mexican Restaurant, the burritos I usually eat (from Tito's Burritos for any locals) or make myself are cold and more of what I would consider a surf/California burrito, less of a Mexican influenced style – with guacamole and no red sauce. So I was a bit surprised when I found Red's Burritos to have a tomato-based sauce mixed with their fillings. Perhaps knowing that ahead of time I wouldn't have been so surprised and slightly disappointed.
So once defrosted (in the microwave) and heated, the burritos aren't the most attractive item to eat, as the filling just seems to be all mixed together, which makes seeing exactly what ingredients you are looking for a bit difficult to distinguish. So no points awarded for appearance, but in the flavor category it is certainly winning. All three flavors had a gradual spicy kick to them, which increased the more I ate the burrito. I much prefer spicy flavor to a burrito than one that is bland and tasteless. Don't get me wrong, the spice is great and even had my nose running a bit from it. So if you enjoy your food generally plain in the flavor department, these slightly spicy burritos may not be for you.
It was easy to note the chicken and steak pieces in your burritos because when you find a piece of meat they were large chunks, not so easily with the turkey burrito, as it was ground turkey. I do enjoy cooking with ground turkey because of its option as lean meat, but I had expected chunks of turkey just like the chicken and steak burritos had. The ground turkey had changed the texture of the burrito a bit, but the contents of the burrito generally tasted the same. But really Red's why the change in meat with the turkey?
Despite what these burritos may look like on the inside, they are for sure great at killing hunger. At 11 ounces per burrito, they are jam packed with goodness, including brown rice, beans and veggies – in addition to the protein varieties included. In the ingredients list – there wasn't a single item I didn't recognize as an ingredient that I would cook. Speaking of cooking, I do not suggest making any of these burritos in the microwave. Cooking directions do say to defrost in the microwave and can be cooked in the microwave, but that's all you should do. As a test I cooked a burrito in the microwave and found it to be terribly mushy and unappealing the way it was cooked. The burrito was sitting in a liquid mess when it finished being warmed in the microwave. Cooking in the oven helped the tortilla to get nice and crispy on the edges and stay together better when cut, besides avoiding the liquid mess and mushy that came with microwave cooking.
Red's now has a smaller burrito (5 ounces) as a snack size, since the 11 ounce burrito is a rather filling meal. I found these as a great alternative to frozen meals that take no care of the ingredients they put in their meals. Red's has so many other varieties of burritos including chicken teriyaki, chicken parm, BBQ chicken and even offers quesadillas (which were super hard to find locally for me) with pulled pork, buffalo chicken and steak varieties. Check out their burrito locator on their website to find a store that (hopefully) carries Red's All Natural products.