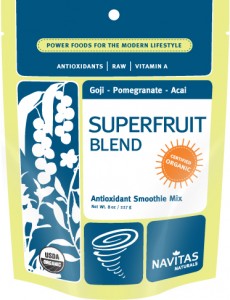 Antioxidants may help to protect your cells from free radicals, so combining a bunch of nature's most antioxidant rich foods sounds like a great way to fight whatever bad radicals come your way. Navitas Naturals may be one step ahead of you by combining goji berries, acai berries and pomegranate into their Antioxidant Smoothie Blend to add to smoothies, yogurt, desserts, beverages, cereal or energy bars. Since blended foods are more easily digested, your body will be more easily able to absorb the nutrients I would consider this as easy to use as you would a protein powder.
I have found that it blends best with other fruit flavors. If too much powder is used (as I had a few times) it can become too chalk like but once you figure out the right ratio you might not even be able to tell you added such fruit powder but get to enjoy the benefits of such. Especially since it is USDA organic certified, raw and vegan.
Navitas Naturals has thought of everything and even included recipe blends on their website in case you are unsure of how to enjoy the benefits of your superfood blend and they aren't just strictly smoothies either. If you want to enhance your nutritional benefits with this powder and add a shortcut to your fruit consumption check out this and other smoothie blends from Navitas Naturals.