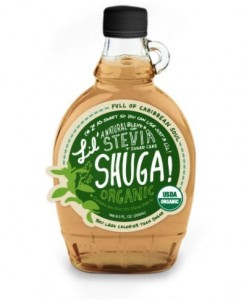 Alternative foods are everywhere, with all different kinds. Lil' Shuga is one of those alternatives to mainstream sweeteners. Natural and organic Lil Shuga is a blend of stevia (a natural sweetener) and cane sugar. Making it double the sweetness of sugar, so you can use less for the same amount of sweetness. Using 1/3 of a teaspoon of Lil' Shuga that is the equivalent to 1 teaspoon of sugar.
It's recommended to be used as an addition to teas and coffee, topping fruit or baking with. As of this writing, I haven't had the chance to bake with Lil' Shuga but I would hope that it is better than its flavoring as a sweetener for tea, which tasted a bit too much like chemicals for my taste and different than what I was expecting. I do not use Stevia regularly and that was my first time using Stevia but the taste wasn't natural enough for me. Though I used it several times in a few different ways it still seemed to always have a strange after taste that followed consuming Lil' Shuga.
I do think I would enjoy the pure sugar cane version offered, known as "Hey Shuga" made with only organic certified. If you already enjoy Stevia, you will likely already like Lil' Shuga and if you've never tried Stevia maybe stick with "Hey Shuga" for possibly a more natural taste. Find out about this Non-GMO product straight from the Caribbean earth here.