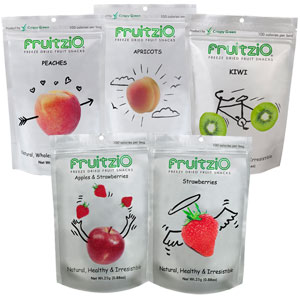 Wow, was I wrong when I thought freeze dried fruit was a bit disappointing. If you add a bit of sugar it becomes fantastic! Fruitzio from Crispy Green has done just that, in addition to having their standard freeze dried fruit, which we reviewed here.
The addition of this sugar of course lowers the nutritional value, but certainly adds to the flavor. Allowing you to enjoy them alone, instead of a mix-in to mask what I felt was a flavorless piece of fruit. Apples and strawberries were my favorite, as I got double the amount of fruit flavor in a single package, all for 100 calories.
Fruitzio offers 100 calorie resealable pouches, in the flavors of apples & strawberries, apricots, kiwi, peaches or strawberries. They include a hint of cane sugar as the only additional ingredient aside from the fruit. They have no preservatives or sulfides, fat or cholesterol. It looks like it is a win, win, win if you are looking for a yogurt topper or a snack to have on its own Fruitzio will likely be that snack.