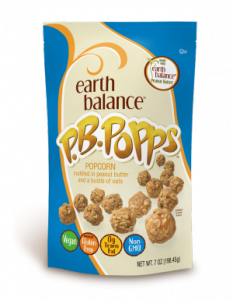 It's no surprise to know by now that my favorite snack is popcorn (I've tried them all from Earth) as I've tried all three popcorn snacks from Earth Balance and wasn't disappointed. Earth Balance offers a sweet popcorn snack, that I suggest you save as a treat because otherwise you might find yourself quickly addicted. P.B. Popps is popcorn coated in Earth Balance Peanut Butter and rolled in oats, along with a sprinkling of whole peanuts.
This sweet treat is vegan, gluten free, non-GMO and contains 0 grams of trans fat as all snacks from Earth Balance have. These P.B. Popps make me forget that I'm even eating popcorn, they are that tasty. It's more like crunchy pieces of peanut buttery oats. I am surprised at how much I really enjoy these little clusters of sweetness, I promise you'll want more and more of these, with the more you eat.
Try all of Earth Balance's popcorn snacks, I doubt you will be disappointed – I certainly wasn't. Check out my other reviews of their snacks: Vegan Buttery Popcorn, Aged White Cheddar Flavor Popcorn and Vegan Aged White Cheddar Flavor Puffs.