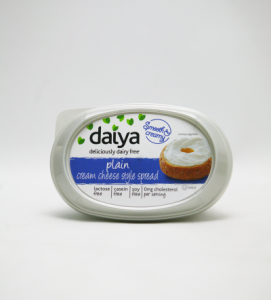 Sunday morning salted bagel from the bagel store down the street used to be my weekly ritual, coated with a good helping of cream cheese or sometimes veggie cream cheese if I felt fancy. Though I've fallen out of that weekly tradition in favor of Zucchini Pancakes and Cream Cheese French Toast, the occasional whole wheat bagel might make an appearance if I'm looking for a quick meal on my way out of town.
So when I got the opportunity to review some of Daiya's dairy-free products, I was very interested in seeing how their cream cheese style spread compared. They offer Chive & Onion, Plain and Strawberry flavors, I opted for plain so I could add what I'd like, making it sweet or savory depending on what I was using it for.
Now I will admit it doesn't exactly smell like true cream cheese, just a little bit different though it is difficult to describe. The different smell doesn't have anything to do with it's taste, thankfully. Made from water, coconut oil, tapioca, starch, non-GMO canola and/or safflower oil, potato starch and a few other ingredients to help with flavor and texture including agave syrup. Though it has a lot more ingredients than traditional cream cheese and more than a non-vegan would prefer, this had the same consistency and creaminess traditional cream cheese does. I was easily able to add any mix-ins to it and it blended well, honey and chocolate chips for sweetness, green onions and garlic for savory.
I did use this cream cheese style spread in this stuffed french toast recipe and think it was just as wonderful and tasty as the usual. You can use any of their cream cheese style spreads just as you would in any recipe that calls for cream cheese. Check out some of their cooking tips for using Daiya products here.
Check our my other Daiya reviews and recipes:
Whole Wheat Vegan Pizza with Mozzarella Style Shreds
Pasta Bake with Mozzarella Style Shreds