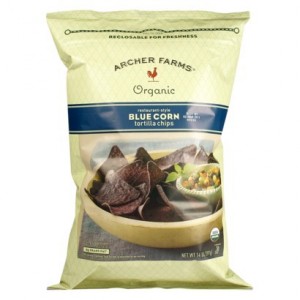 Store brand foods get a bad wrap sometimes. Sure they are usually more cost efficient than buying brand name foods, but sometimes that comes with a loss of good flavor depending on the product. But fear not, as I am happy to report that there is a store brand that is in the running for great taste and convenient packaging. Enter: Target stores Archer Farms brand. Archer Farms provides you with most items any food store might carry. In my case I ran into Target to grab some chips for a party, Archer Farms Organic Blue Corn Tortilla Chips.
The fact that these chips were organic is what drew me to them, besides comes in an awesome re-sealable chip bag. No one ever knows how to keep chips fresh once you open them and these will totally stay fresh the entire time you are eating them.
These tortilla chips don't taste or feel greasy at all and are lightly seasoned with salt. Making them great alone or with dip. If you are looking for a readily available organic tortilla chip, head to your local Target store, you won't be disappointed.