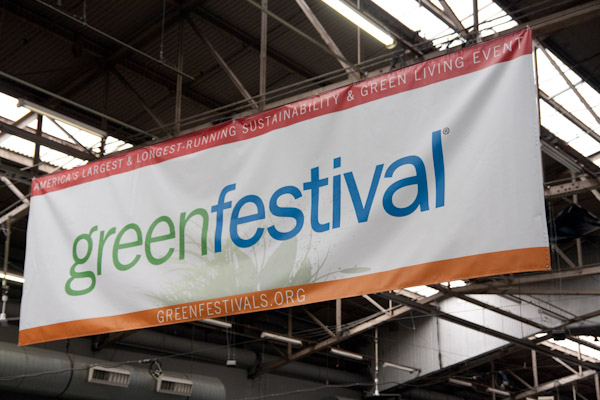 On Saturday I attended the Green Festival in New York City for the second year in a row. However, this time it was moved to Pier 94 as to not interfere with the NYC Auto Show at the Javitz Center, where this event was last year. I'm glad they did move it to a new location because this year it seemed as though there were so many more vendors than last year, in a larger space. Thus there were so many more opportunities to find unique green products. I'm going to share some of the companies that were great, which I will hopefully have full reviews of their products soon to come.
Follow Your Heart Vegan Gourmet & Vegenaise
I've already reviewed vegan cheese alternatives, such as Daiya brand. It was wonderful to cook with, so was Vegan Gourmet's cheese shreads for grilled cheeses. They also have vegan mayonnaise, Vegenaise and Vegenaise gourmet pesto. All three of these products are vegan, gluten free, dairy free, non-GMO project certified, soy free, cholesterol and kosher. They even make salad dressing too!

Bold Organics
They offer organic and gluten free frozen pizzas, include vegan and veggie lovers pizzas too. The vegan and veggie pizzas are totally vegan and uses vegan cheese from Vegan Gourmet (see above). Bold Organics sets out to create a pizza that tastes like real pizza and I'm excited to try out their pizzas to see if it's true.
Cedar Lakes Bakers
Artisanal vegan and organic cookies are what Cedar Lake Bakers specialize in. They are cookies that don't taste as though they are lacking anything even though they are vegan. The peanut butter cookies was soft and melted in your mouth. On the other hand, the dark chocolate cookie was crunchy and crumbly. I'm a sucker for soft cookies so I preferred the soft peanut butter cookie best. They also offer chocolate chip, oatmeal raisin and dark chocolate cherry cookies too.
Element Rice and Corn Cakes
Created in Italy, these rice and corn cakes are a sweet treat with a minimal amount of ingredients. They are all gluten free, non-GMO, no trans fat, preservatives or artificial flavors. The rice or corn cakes have a thin layer of chocolate, sweet orange or strawberry "frosting." The sweet orange flavor was my favorite, light and airy as you ate it. As expected the dark chocolate was bitter, it wasn't bad but dark chocolate isn't my thing. Check out these easy to eat vegan snacks.
I will have part two of my recap posted on Friday, with a bunch more fantastic companies to share will you all. Did you attend the NYC Green Fest or any of the other cities? Washington, D.C. or San Fransisco? What did you like best?