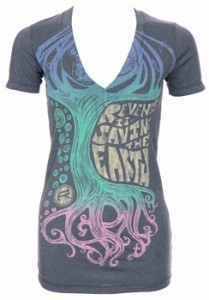 It's already been proven to me that organic cotton beats traditional cotton in a test of softness. What I didn't know was that it could be combined with recycled plastic bottles to make fabric that is equally soft. I was contacted by Jordan from Revenge Is…, positive action clothing to try out one of their eco shirts. After browsing their site I found a shirt design that fit my style, I settled on the "Saving the Earth" t-shirt in grey (also available in purple.)
The graphics and words instantly convey my supportiveness of conserving the earth's resources without having to say a word. I don't have a wide range of shirts that advertise my eco-friendly feelings, mainly because they aren't designed as subtlety as I would like. Though with Revenge Is, they have shirts that are subtle or can surely express your views obviously. This design has the words "Revenge Is Saving The Earth" blending into the design of a very artistic tree in multi-color. They also have many other shirts that don't advertise about their cause as subtle as "Saving the Earth," if that's what you're looking for.
Besides its design exclaiming your love for the earth, this shirt loves the earth too because it is made from 50% organic cotton (so soft!) and 50% recycled plastic bottles (RPET-Recycled Poly Ethylene Terephthalate). The RPET doesn't take away from the softness at all and makes it very cool bionic yarn. The plastic bottles are something I could not even tell were in the fabric. So if you expect to see little flecks of bottles you are out of luck.
As well as using a great eco fabric, Revenge Is uses water based inks for their designs (instead of oil based inks.) I wonder if they have any plans to try soy (plant) based inks for an even greener approach. So far they are doing all great things to help the earth!
All of their shirts are conceived in Los Angeles, are organic and vegetarian. In addition to doing great things to create their eco shirts for each shirt that is purchased, they donate to a charity. At least 5% of their net sales are donated to charities – which include Defenders of Wildlife, Humane Farm Animal Care, Love Honor Cherish (Equal Marriage Rights), National Audubon Society, Wildlife Conservation Society and that's only naming a few of them! There are many more charities that they help with their sales, check out all of them here.
Revenge Is has shirts that advertise more than just the "Think Green" category I choose my shirt from, some of the other categories include: Eat Your Veggies, All Love is Equal, Endangered Species, Rescue Dogs – shirt graphics designed in partnership with The Big Bang Theory actress Kaley Cuoco, as well as My BFF, which are dog inspired shirts. Wow, they have a bunch of categories and a ton of shirts to choose from!
Not only do they offer shirts, they offer accessories (scarves) made from the same great material. Just in time for fall weather Revenge Is was awesome enough to send along their Mushroom Scarf in Yellow (just as soft as my shirt) and we are giving it away to one awesome reader! To enter, head over to the Revenge Is website and see what your favorite item is. Then comment below and let us know what it is. I'll choose a winner at random on Monday November 25th.
What's your favorite charity?