How do you clean baby bottles, fold laundry, or make an important phone call when you are caring for an infant who wants to be in mommy's arms? Easy. Get yourself an organic baby carrier from New Native Inc. Go to newnativeinc.com and choose from an exciting array of stylish slings to carry your baby close to you and have your hands free at the same time. Or, use it to soothe your baby if they are fussy and want to feel like they are back in the belly. If you click onto the Why Wear Baby? link, you will find this excellent reason: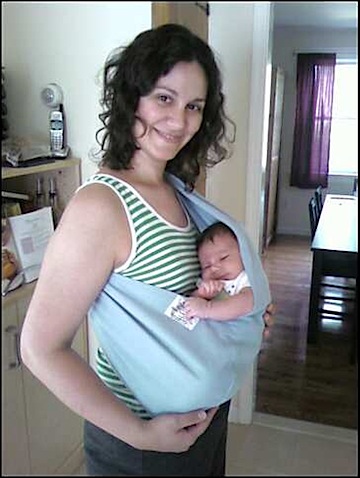 Wearing a baby in a soft carrier allows parents to easily pat, stroke, caress, rock and communicate love for their baby. Studies have shown that wearing a baby three hours per day or more creates stronger bonding… Babies who enjoy a greater amount of tactile (touching) experience have a correlated higher level of self-esteem later in life.
Who doesn't want that for their child? Nancy Main started New Native Inc. in 1992 with this is mind. She also gives back to the global community through numerous outreach programs.
As a new mom, I love this carrier. As soon as I put my son, Colton, into it, especially if he is fussy, he is neutralized. It makes him feel safe and cozy, and makes me feel the same way. I love that the material is organic and soft, and that there are many ways to carry him. If you are a mom, or a dad, check out this excellent product!