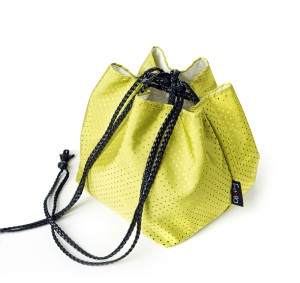 I was so excited awaiting the arrival of my bag after having a very hard time deliberating over which one to choose. When I received a small, very flat, square package in the mail, I would have never guessed what was inside. It looked like some type of postcard, c.d. or something. It was very impressive to me because I think that packaging is one of our biggest challenges. How many times have you gotten a huge box filled with all kinds of paper and junk only to pull out one tiny item? I think it's a huge problem, or like we sustainability-minded people like to say… a solution waiting to happen.
Like I mentioned, it was very difficult to pick from the awesome selection of cruelty free, Japanese, vegan bags which came in all sizes, colors and designs. Backpacks, evening bags, clutches, etc… a girls dream.
Estella Design bags were inspired by Japanese minimalism, the vibrant colors of the Middle East and whimsy and unique style of Orly Haberman, an architect who specializes in a field I am very interested in called Industrial Design. These bags are designed for the young, independent-minded women.
The bag I chose was a beautiful, lime green color in a lightweight, durable, easy to clean design. The strings could be maneuvered to make it either long or short. It's a no-nonsense bag, not fancy or filled with compartments, but very cool and light. It's also very easy to wipe down and a perfect summer bag.