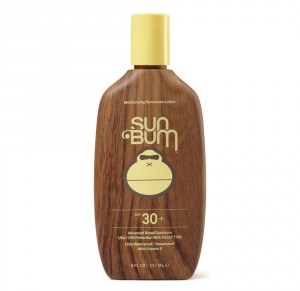 Sun protection for your skin has really been a big part of people's daily routine of the last few years, more than it has been in the past 10 years. That's why Sun Bum wants you to reduce your skin cancer risk by using their sunscreen. Their new formula of sun care products are created for people who live and love the sun. Allowing those people to enjoy their outdoor lifestyle while being protected from dangers of the sun. This SPF 30 sunscreen from Sun Bum has earned the skin cancer foundation's approval, tested and recommended by them. None of Sun Bum's products are tested on animals, which makes me glad they care about animal rights as well as skin care.
This sunscreen does not make claims to be all natural as Sunology's sunscreen which I have already reviewed does. But Sun Bum's sunscreen may be a bit more wholesome than big name company products, as they created this product to protect their own children, families and friends from the sun. The SPF 30 is paraben free, oil and PABA free as well as hypoallergenic. Its (active and inactive) ingredient list is a bit unpronounceable, aside from water being its first ingredient. Many of these unfamiliar words worry me into thinking that I might be slathering man made toxic chemicals onto my skin. Yet a quick internet search helped to put my mind more at ease, as only 4 of the inactive ingredients had a moderate concern risk, while all others were low on the list of concern.
Besides the many complicated sounding ingredients, this sunscreen did exactly what it was supposed to and kept me from getting sun burned on another cloudless day. I even used only one application in the morning and it lasted all day. Though they do recommend reapplying throughout the day.
My favorite part of this sunscreen, besides its expected sun protection is its fantastic coconut scent. It reminds me of my younger years when the summer would be filled with scents of ocean salt breezes and coconut scented sun tan oil, but this is just a more helpful version of that type of product. If you want something more natural I would say go with Sunology, if you care more about what your sunscreen smells like, I'd say choose Sun Bum and enjoy the coconuts. They offer several different SPFs, lip balm and continuous spray sunscreen as well as the traditional lotion type.
Have a sun safe summer!