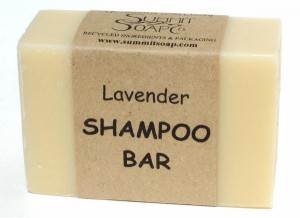 This past year I became aware that shampoo could come in a solid bar (in some aspects of life I'm certainly behind the times.) What a great idea it is for so many reasons, ease of travel, compact size (usually way smaller than any bottle of shampoo I've seen), longer lasting than liquid shampoo. All these great things are why I was excited to try Summit Soap Co.'s Lavender Shampoo Bar.
Made from upcycled, filtered/purified cooking oil Summit Soap Co. makes all of their soaps by hand in Breckenridge, Colorado, from local restaurant deep fryers. Originally a biodiesel company who later added soap making to their resume once they found out that making biodiesel was very similar to traditional handmade soap.
I cut only a small piece from the bar to use, as anything larger gets mushy quickly and takes very long to dry out for your next use. The shampoo bar is created with coconut, castor and lavender oil, making it free of phosphates, sulfates and parabens. Like their other soaps the scent is not overpowering, though I didn't think that my hair smelled like the soap after I washed it. So gentlemen don't worry you won't be walking around with the scent of lavender on your person. I mostly care to have my hair clean, I don't particularly expect for the scent to stay with me.
My hair is naturally super curly and curly hair needs hydration/moisture. So I figured the coconut oil would be spot on. As my current shampoo is made with chunks of coconut as well, making my hair curly and frizz free. So I thought that the shampoo bar would produce the same results. I was truly disappointed, for my hair was much more frizzy than normal and didn't hold tight curls. Thinking my hair may not have been used to the change in shampoo, I used it several times with the same unfortunate result. This is not to say that this shampoo bar wouldn't yield good results with different hair types, so don't rule this shampoo bar out for your hair type, even if yours is also curly.
I'd say try it out despite my dry hair problem, as shampoo bars are super convenient and longer lasting than traditional liquid soap. Also they aren't restricted at airports, so you likely could bring this in your carry-on luggage. I will be reviewing the Colorado Clean soap bar from Summit Soap Co. too, so be on the look out for that.