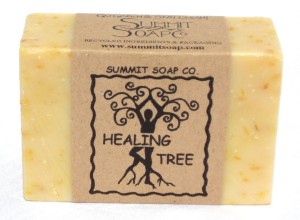 Get your eco-friendly on with upcycled soap from Summit Soap Co. All of their soaps are handmade in Breckenridge, Colorado from filtered/purified cooking oil, which is taken from local restaurant deep fryers. Originally a biodiesel company who later added soap making to their resume once they found out that making biodiesel was very similar to traditional handmade soap, which allows the soap to be free of phosphates, sulfates and parabens. With both companies being about closed loop sustainability I thought I'd try out some unique soaps, as this is a first for me to use upcycled and handmade soap.
I can't be completely sure if this is true of all handmade or upcycled soaps, but I find it certainly true for these. Don't get the whole bar of soap wet, because it will never dry completely, instead turning into a mushy blob. Unfortunately that was my mistake and tried many silly ways to help my soap bar attempt to dry out before my next use (usually the day after). Just cut a small piece off and use that instead, it works so much better. Hopefully I'm not the only crazy person who doesn't like mushy soap. I have to admit I had unfortunately been using conventional bar soaps before now, though they have claims of leaving your skin free of residue, it's difficult to tell if that is true or not.
Summit Soap Co.'s Healing Tree offers a naturally antibacterial soap, which is purifying and uplifting. Made with tea tree essential oil and calendula, to help reduce visible scars. Which I do think works well on scars, as I have a scar that is less than 6 months old and seems to have faded much more than it previously was. Perhaps it is because of this soap, I wouldn't rule it out completely. It was a bit surprising to enjoy such a rich lather from this soap, since I find most eco-friendly products don't lather as much as we may be accustomed to, in comparison to mainstream soaps. Upon first washing Healing Tree seemed to need a bit more effort to wash off, but after several uses that issue faded. It does have a pleasantly calming scent, though does not smell harshly like perfume.
There are small specs of calendula (a flower pedal popular among those with sensitive skin and eczema) throughout the bar, which seem to act as an exfoliant. The cooking oil used to create this soap, uses a heated filtration process to ensure that no food particles will be present.
I like the idea of reusing frying oil, we at Leafygreen.info haven't been a stranger to the idea as we have enjoyed liquid hand soap made in the same manner. Yet sometimes the idea of washing with cooking grease freaks me out a bit, but surely it's all in the name of eco-friendliness. I have two other items from Summit Soap Co. to write about, so stand by to hear about these eco-friendly wonders.