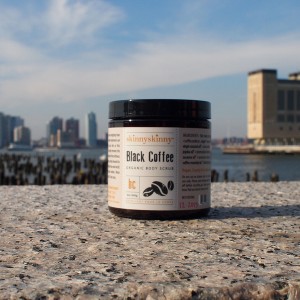 Need some java to wake you up in the morning? Yup, most people do, but did you know your skin benefits from coffee too? It's true, caffeine is actually good for your skin, helping to improve circulation. SkinnySkinny has incorporated this ingenious idea into their organic black coffee body scrub. That's right, you get to spread coffee grounds all over your skin, all in the name of beauty.
Based out of Brooklyn, New York, SkinnySkinny is an eco-friendly company born from the belief that organic and eco-friendly bath and body products should work as well (if not better) than conventional products (something that I totally agree with as well.) That's why all of their products are free of synthetics, sulfates or artificial preservatives. They are 100% carbon-neutral, by being fully wind powered (so cool, how many companies do you know that can say that) and using recycled, reclaimed and sustainable material for their packaging. I found this especially true when reading the label for the coffee scrub, as it instructs you to peel off the biodegradable label and recycle the jar, how neat! A label is probably last on people's minds in terms of recycling, but seems to be at the forefront for SkinnySkinny.
Now before you hop in the shower and get your scrub on, I must tell you how these coffee grounds smell exactly like freshly brewed coffee. It may make you want to consume the scrub itself, but I say resist the temptation and only use it on your skin. Made with freshly ground fair trade and organic coffee beans, which were selected specifically for their aroma. Infused with organic oils that help to give your skin a healthy glow including virgin coconut, jojoba, sesame and coffee essential oils.
You will likely be leaving the shower craving a cup of coffee, but not exactly smelling like one. Though before you do, make sure you thoroughly rinse down your shower because these coffee grounds get everywhere. Yes, everywhere. Even places that you weren't even using the scrub near. Your shower will thank you for a quick clean up, as tiny black specks all over your shower usually aren't welcome. Use as you would any other body scrub, though instructions suggest avoiding your face and neck. As most SkinnySkinny products are, this scrub is vegan and cruelty-free. This scrub is tightly packed together to help the exfoliant last longer, so if you have some trouble scooping any out feel free to add a little bit of coconut oil to loosen it up.
SkinnySkinny does good for the environment with their products, so it's no surprise they give back by supporting non-profits that share the same beliefs as them. If this body scrub isn't exactly your cup of joe, no worries, they have four other body scrub scents to choose from. As well as so many other products, including bar soaps, moisturizers, non-toxic nail polish, hair care & face care products, soy candles and greenery gifts. I'll be reviewing their Organic Orange and Vanilla Body Butter soon, so keep an eye out for my thoughts on that product.