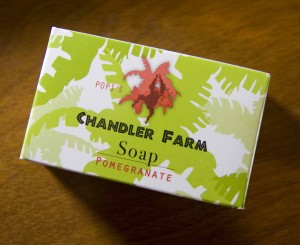 Though this soap is not organic, it is all natural and made from 4 simple ingredients. None of which are palm oil. Chandler Farm is big proponent of 100% palm oil free products, as harvesting palm oil threatens now endangered Orangutans in Indonesia. Since the palm oil is harvested usually in unsustainable ways, there is not enough palm fruit for the Orangutans to eat.
What I think is great is that each product is named after an actual Orangutan, each of these animals has been retired from the entertainment industry by Chandler Farm. I got the chance to try out "Popi's" Pomegranate Soap.
Though the scent wasn't overpowering , I'm sure I would have classified it as pomegranate. Seeing as how none of the 4 ingredients are products of pomegranate, I suppose using grapefruit and sweet orange oil extracts is how they are creating the scent, meant to smell like pomegranate. I think they should rename it a citrus blend scent instead.
Unlike traditional soaps, which are much more like detergents with their foaming abilities, the foaming of this soap seems to dwindle as you use it. At least that was my experience, used in combination with a washcloth; most of the suds ran out before I was done. No matter how much I created suds. Though we know suds do not equal being clean necessarily, but I did not find it pleasant to end up washing with a wet non-soapy washcloth in the end.
I usually like to slice up artisan soaps since sometimes as a whole they end up becoming too slimy after being in the shower a while. I tried to do that with this soap, but really it made the foaming even more troublesome. So don't cut this smaller, but do buy this to help the Orangutans. As well as those who may have been exploited in the entertainment industry and those in the wild, who are being forced out of their home by man-made destruction. For a full line of their bath products and other ways you can help the Orangutans, check out their website.