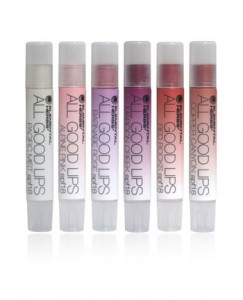 Lips are possibly one of the few forgotten places when applying sunscreen. Do you ever consider it? But thanks to Elemental Herbs' All Good Lips, they have a new product that has sun care in mind. They offer an organic tinted lip balm with SPF 18 that is also gluten and carmine free, in your choice of 6 colors, with colors that represent the earth's natural minerals.
I'm careful of what foods I enjoy, so why shouldn't I be careful of what I also put on my skin? With ingredients that I understand and can pronounce such as organic extra virgin olive oil, beeswax, calendula and lavender besides essential oils it makes me feel like this company isn't trying to hide a product behind poor quality ingredients.
I was able to try two different colors, with a similar result for both. Both colors ended up being much more intense than I had expected, bold color isn't bad but something that I wasn't used to. Barnabe Rose was the first color I tried and it went on so smoothly, which is a great benefit and something I was very pleased with. The color was a bit more of a purple than rose I felt, but when matched with the right outfit I'm sure it works well but wasn't the right color for me. Copper Canyon was also a bit intense for my subtle makeup routine, but was just as great in application as Barnabe Rose. Both have a fantastic shimmer to them, which I love! With their 6 colors to choose from hopefully they all have this great shimmer to them: Pacific Mist, Alpine Pink, Barnabe Rose, Maroon Creek, Red Rocks and Copper Canyon.
Based on ingredients and how it applies, I totally suggest you try these organic tints if you want to add some color to your outfit.
We want to hear from you! Have you tried these? Are you willing to try these? What do you think? Comment below to share your own experience.