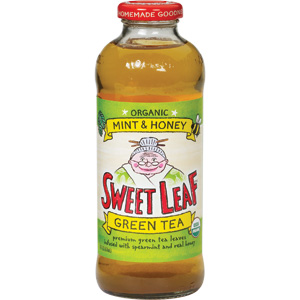 It is the sweet aroma of green spearmint Tic Tacs, that my grandfather always had resting in the cup holder of his car, which brought the instant memory to my mind when I first smelled Sweet Leaf Tea's Organic Green Tea with Mint & Honey. Happily it does not taste as strong as it smells, which is wonderfully refreshing.
Created by friends; Clayton & David, Clayton envisioned making a ready-to-drink bottled tea that tasted as homemade as the iced tea his grandmother "Mimi" (she's the pretty lady on every bottle) used to make. Mimi's recipe was pleasantly basic, by using premium tea leaves and pure sugar cane. Just as Grandma Mimi taught Clayton, they never use ingredients they can't pronounce. I totally agree with Grandma Mimi and think these natural ingredients should always be used to create beverages; commercial or homemade. Because those who are willing to enjoy such pure beverages, where ingredients cost more they are more likely to pay more for better taste.
In a unique process the tea was first brewed using pillowcases as tea bags and crawfish pots as brew tanks. This company truly began as a homegrown production, by hand applying labels, filling bottles with garden hoses and using a handheld drill to apply caps. Growing each year more and more, Sweet Leaf later moved to a more automated facility in 2004 and by 2009 have grown to 45 employees.
I feel I am a true traditionalist when it comes to iced tea. For many, many years I drank iced tea with only lemon and bit of sugar. I never truly accepted other flavors in my tea beverages. The honey in Sweet Leaf's tea happily replaces the sugar I am used to with a sweeter impact and the spearmint gives it a fresh picked taste, direct from my own garden. This tea would be fantastically refreshing on a hot summer day and healthy for you knowing it's USDA Certified Organic. With about 60 calories per serving it won't have too much of an impact on your waistline either.
Sweet Leaf now offers 7 organic flavors, as well as several all-natural and diet flavors. I'm excited to try the Organic Sweet Tea as well, so be on the look out for my review of that flavor soon. To check out all their flavor varieties, from unsweet tea to lemonade or half lemonade and half tea aside from their original tea flavors, head over to their website www.SweetLeafTea.com