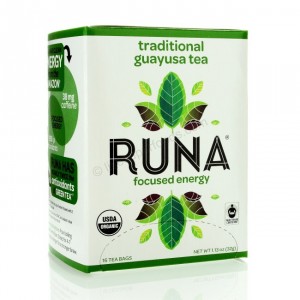 Every once in a while I get off my coffee and back to my love of tea. I enjoy the whole process of brewing, steeping and all of my pretty teapots and such that go along with it. I wasn't feeling great and didn't want coffee so I steeped myself a pot of Runa focused energy tea. The flavor I was sampling was the traditional guayusa tea. I learned that it also comes in flavors such as cinnamon lemongrass and ginger citrus. My usual favorite is Earl Grey so I really enjoyed the traditional guayusa, which would be comparable to that or a Lipton Black tea. I did find that I liked the flavor better than anything I had before. It steeped very quickly and was strong. I also found that it calmed my upset stomach after days of a bout with a mild stomach virus. Coffee was off limits and made my stomach feel like a firing inferno. I flavored the tea with a little honey, which was a great compliment to the tea. I wound up staying off coffee and preferring the tea for now.
When I started my review of the tea I was surprised to learn of the interesting story behind it. I was satisfied on taste alone with this organic tea. Guayusa (gwhy-you-sa) is a native Amazonian tree leaf that indigenous people in the Ecuadorian Amazon have brewed like tea for thousands of years. Drinking guayusa is essential to what makes the "RUNA" which means fully alive!
The company and the product were founded by two college friends – Tyler Gage and Dan MacCombie, – while studying at Brown University. Tyler and Dan, recently honored on Forbes 30 under 30 Food and Wine list are the sole importers of guayusa and purchase the leaf directly from indigenous farmers who own their own land. Runa's business model mixes business ethic with fair trade and now supports 2,000 farming families while also making a profit while operating out of their Brooklyn-based offices.
Runa tea offers a clear, focused energy by balancing as much caffeine as one cup of coffee and twice the antioxidants of green tea! It is certified USDA ORGANIC. If you get a chance to check out the story behind the scene of the business you will find yourself even more impressed!